CardEasy wins the Genesys 'Best Security Solution' Award at Call & Contact Centre Expo 2018, London
Teon Rosandic, SVP Sales, Genesys presents the award to Syntec at Excel, London on March 20th 2018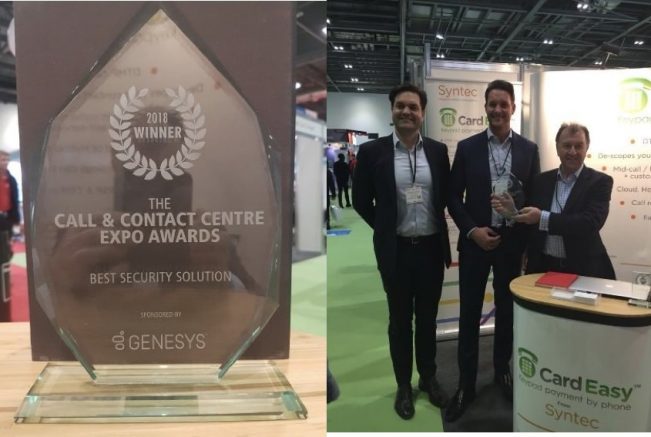 The Call & Contact Centre Awards celebrate the best talent within the customer engagement world, as well as honouring the latest innovations transforming contact centres today.
Amongst four categories, the Best Security Solution Award was open to providers of secure payment and other data security and storage solutions, recognising the importance of compliance and trust within the provision of customer experience. Finalists were asked to demonstrate expert services and first class products. Syntec was shortlisted with three other finalists following the initial round and the judges then visited each nominee's stand at the ExCel exhibition centre, giving them the chance to pitch their product and the reasons why they should be considered the rightful winners, in true 'Dragon's Den' style.
Teon Rosandic, SVP Sales for Genesys (Pictured Left) was on hand to present the winner's trophy to Syntec on day two of this major London exhibition, earning Syntec another coveted award for its patented CardEasy system.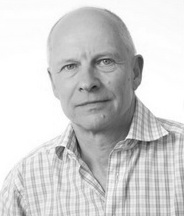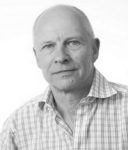 Syntec's Managing Director Colin Westlake commented on the win:
"We are delighted that our innovative CardEasy 'keypad payment by phone' DTMF system has been recognized as best in class for security in these prestigious awards.
This is great recognition for the entire Syntec team's efforts in getting this new technology both developed and now deployed in major organisations' call & contact centres internationally".
---
Additional Information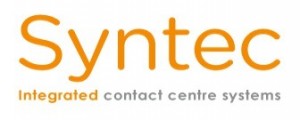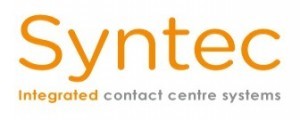 Founded in 1998, Syntec (formerly Syntec Telecom) is an independent UK network operator providing a range of managed services to contact centres across a wide variety of sectors in the UK and worldwide. Syntec is a PCI DSS level 1 (v3.2) Visa Merchant Agent & Mastercard TPSP and a participating member organization of the global PCI Security Standards Council.
For additional information on Syntec Integrated Contact Centre Systems visit their Website, email or view their Company Profile