Ventrica secures NJOY contract and create job opportunities in UK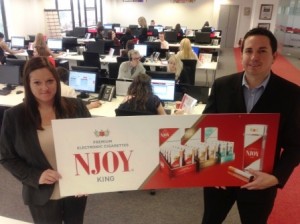 Electronic cigarette company NJOY today announced it has selected outsourced contact centre Ventrica to manage a centralised customer service hub, to support its expanding European operations. With over 70,000 retail locations in the US, NJOY is one of the most popular e-cigarette brands in America, and is now expanding its footprint into the UK and Europe, with distribution in place with top retailers including Sainsbury's.
NJOY selected Ventrica due to their ability to offer native speakers for customer service across Europe, as part of NJOY's drive to deliver exceptional and personal experiences for customers worldwide. To deliver this service, NJOY has supported Ventrica to increase the number of job opportunities in Southend-on-Sea, Essex, where Ventrica is based, as the brand grows across Europe. The outsourced contact centre is planning to double the size of its business over the next 18 months.
Ventrica's team, including native English, French, German, Italian, Dutch, Spanish and Portuguese speakers, will handle all customer queries 7 days a week via phone, email and social media (Facebook and Twitter). In addition, the team will field enquiries from NJOY stockists and retailers.
Bo Ekberg, Senior Vice President International at NJOY, comments
"NJOY is one of the leaders of the electronic cigarette market in America, and we're hugely confident about the opportunity in the UK and Europe. We are planning expansion across Europe and as we do, we want to ensure a high level of service to our customers. We'll be working closely with Ventrica to provide a personalised, native language experience for our customers, wherever they are based."
---
Additional Information
For additional information visit the Ventrica Website or view their Company Profile