When uncertainty looms, customers begin to think critically about their spending decisions. They weigh up which services they use most and which aren't worth the money. When fighting the worst impacts of an economic slowdown, how do you convince your customers that your business is worth sticking with?The key is resilient customer experience.

With this whitepaper, you will:
Learn what Resilient CX is.
Discover Content Guru's method for building resilient CX in four steps.
Uncover the CX tech that makes resilient CX easy.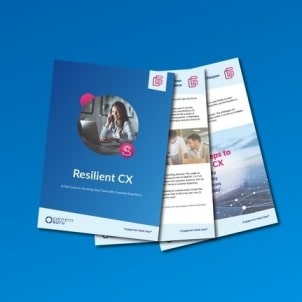 To download the Whitepaper 'Resilient CX -A Field Guide to Surviving Hard Times with Customer Experience from Content Guru Click Here
Content Guru helps organisations achieve outstanding customer experience. Its cloud-based solution, storm®, ensures that customers' requests and issues are quickly and accurately resolved – simply put, engagement made easy. storm cloud services are used by over 1000 large-enterprise and public-sector organisations in over 50 countries, and trusted for mission-critical applications by major organisations, such as AXA, the NHS, Rakuten Communications and US Government.
For additional information on Content Guru view their Company Profile