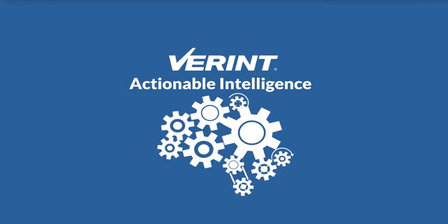 Verint Extends Customer Engagement Optimisation Vision with Latest Advancements – User Experience and Advanced Analytics Headline Enhancements to Company's Enterprise Workforce Optimisation Solution
Verint® Systems Inc. have today announced significant enhancements to its industry-leading enterprise Workforce Optimisation (WFO) solution that extends the company's Customer Engagement Optimization platform. This milestone release goes further than ever in connecting organizations and their employees to customers. Verint has taken its market-leading suite of solutions to even greater heights with more powerful analytics, dynamic visualisations and a focus on ease-of-use—delivering Actionable Intelligence® by enriching interactions, improving business processes and optimising the workforce.
Today's organisations need a simple and effective approach to how they engage with their customers. The proliferation of new and different communication channels has made it even more difficult for organisations to manage the people and processes required to respond to consumer expectations in a consistent, personalised and contextual manner. Further, the emergence of what some industry experts are calling the omnichannel customer engagement centre, is also becoming increasingly important—making workforce optimization all the more critical.
Enhancements to Verint's WFO solution are designed to transform the way global organizations respond to these challenges, enabling smarter engagement for competitive advantage. Verint's latest WFO solution helps world-class organizations drive smarter engagement with customers, enhance employee productivity across the front and back office and deliver the real-time guidance needed to help improve the overall customer experience.
Groundbreaking User Interface for Streamlined Experiences and Easier Navigation
Headlining the enhancements in Verint's WFO solution is a completely redesigned user interface that provides a modern, dynamic and engaging user experience that can be tailored to suit individual working styles to help ensure employees are more efficient and productive. The solution's business workflows shorten the time from insight to action. A single, customisable environment is available throughout the solution and displays interactions across channels, enabling smarter engagement. The new UI effectively provides unified WFO on an intuitive, customize-able screen as opposed to multiple discrete applications.
In addition to the next-generation user experience, significant advances in analytics run throughout. The newly re-architected speech analytics solution provides a more intelligent, faster and more accurate way to analyze phone calls through automated theme identification, providing new levels of insights out-of-the-box and even richer context of spoken phrases and root causes. This approach reduces the potential for missed insights that can occur with manual categorisation, enabling organisations to respond rapidly, seize opportunities and engage in corrective actions as needs arise.
Driving Next-Best Action and Improved Customer Experiences with Enhanced Real-Time Guidance
New capabilities like embedded voice biometrics technology help improve the customer experience and reduce fraud-related losses and call handle time. Identifying fraudsters and authenticating customers at the beginning of an interaction reduces the need for agents to ask onerous identity authentication questions—which often require answers that customers don't easily remember. To help ensure that the outcome of every interaction is positive, new desktop analytics enhancements drive improved scripting which, in combination with real-time speech analytics and notifications, provides employees with validated next-best action recommendations to improve the service experiences and help organisations maximise opportunities to increase customer loyalty.
Improving Employee Productivity and Performance
Employee productivity rounds out the key themes. The redesigned quality application better empowers employees to complete self-evaluations. Managers also have comprehensive views of employee performance, learning and coaching history while playing, evaluating or live monitoring interactions. New planning enhancements to performance management help managers improve employee productivity and performance in a structured manner leveraging milestones based on scores of select key performance indicators (KPIs). Using the unique power of Verint's unified solutions, new productivity and effectiveness reports and KPIs present a true picture of employee productivity and surface unused capacity.

To learn more about Verint's Customer Engagement Optimisation platform Click Here or view their Company Profile.