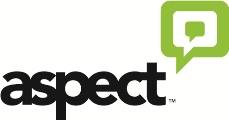 Aspect Software sets a new standard for the agent experience with Aspect Workforce Optimisation 8.0
Icons, widgets and customisable dashboards of new intuitive graphical user interface remove technology barriers, improves agent engagement
Aspect Software have announced the launch of Aspect Workforce Optimisation 8.0 (WFO 8), an advanced, integrated workforce optimisation solution that includes workforce management, quality management and performance management capabilities.
"As the contact centre becomes a more integral part of the overall customer experience, companies are seeking intuitive solutions that provide more flexible and integrated customer service operations," says Spence Mallder, Senior Vice President, General Manager of Workforce Optimisation at Aspect Software. "To address this, enterprises need to provide a much better user experience for agents and supervisors and develop a tighter integration between the front and back office. WFO 8 lets companies do just that, regardless of whether it is deployed at our customers' premises or in the Aspect cloud."
Designed in collaboration with a nationally-recognised user experience design firm and tested by experienced contact centre agents, WFO 8 boasts a customisable, intuitive and easy-to-use graphical interface that eliminates the technology barrier between users and their workforce optimisation system. In addition to tighter data and functional integration, all components of WFO 8.0 (Workforce Management 8.0, Aspect Quality Management 8.0 and Aspect Analyse 8.0) use this common look and feel.
The benefits of the new user interface include:
Higher productivity workforce because day-to-day administrative tasks take less time
Improved morale resulting from the simplification of important tasks such as vacation requests
Broader use of more powerful but complex WFO features
Easier remote agent deployments with flexible use across common browsers (Internet Explorer, Safari, Firefox, Google Chrome) and devices (desktops, laptops, tablets and smartphones)
Improved agent autonomy and efficiency by providing faster access to information, all in one place through simple icons and configurable widgets and dashboards
Also, WFM 8's new back office performance capabilities allow for better management of business processes and workflow in the back office as well as blending of back office and front office workforces. With the ability to provide more accurate forecasting, scheduling and tracking of back office personnel, employee schedules can be optimised to meet specific business requirements. WFM's back office optimisation features can dramatically improve the efficiency of most back office operations.
"The agents at Fairmont are really delighted with Aspect's new Workforce Management user interface," says Louise Andrew, Manager, Workforce Planning, FRHI Hotels & Resorts. "It's so much easier for agents to understand what they need to do and how to do it."
WFO 8 also allows for tight integration with other Aspect products, including the full suite of customer interaction management and analytics solutions including Aspect Unified IP, Aspect Analytics for Speech and Text, and recently launched Aspect Mentor. Aspect Analytics for Speech and Text gives clients sophisticated analytical tools with access to 100% of all speech and text interactions revealing valuable and actionable insights. Aspect Mentor software offers proactive notification alerts and guidance to both agents and supervisors using real-time speech analytics methods. WFO 8, Aspect Unified IP, and Aspect's analytics solutions provide a complete call centre infrastructure and management package that is unrivalled in the industry.
"Our focus is to provide the tools to allow contact centre agents to feel more effective and empowered when interacting with customers," continues Mallder. "As the first point of contact with a company, the agent is the face of the brand, and happy agents lead to happier customers, ultimately improving customer retention, brand loyalty and the overall customer experience."
Workforce Optimisation 8.0 is available globally.
For additional Information see Aspect's Company Profile