Does workplace design positively impact on employee motivation and performance asks Andy Doig, Chief Operating Officer at Webhelp UK.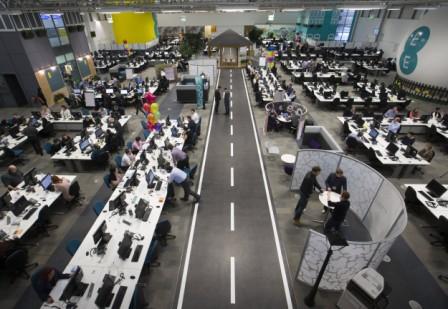 The world of work is changing. For business success, organisations require a motivated, engaged and content workforce.
The design and layout of a workspace is something that is all too often overlooked by businesses but creating an inspiring work environment for employees can prove a powerful tool for growth in its own right.
Common practice for ensuring motivation includes appealing career packages to generous bonus schemes. However research indicates that innovative workspaces serve as a foundation for an effective workforce.Businesses that adopt collaborative workspaces are better equipped to ensure employee satisfaction and improved productivity.
The way in which employees learn is also heavily influenced by the professional environment. The classroom set up may well be the best fit for baby boomers, but on the other hand generation Y require a more creative, interactive way of learning. With three different generations now in the workplace, creative workspaces can help inform training programs and promoting effective learning.
In June 2014, Webhelp UK set about creating a state-of-the-art contact centre in partnership with mobile network operator EE, with the aim of providing innovative and functional learning spaces for up to 300 employees. As well as this, the new site provides employees with an informal and relaxed environment complete with tailored break out areas.
A number of facets present throughout the contact centre have been developed to suit the needs of the different generations. Informed by best practice training research, the contact centre is able to cater for hands-on, practical training modules.
Fun elements include The Shop which mirrors a high street EE shop to allow trainees to experience the service from a customer's point of view. The House designed so that employees can take a break in the comfort of their own home and The Seated Garden which is a peaceful phone free zone for ultimate relaxation.
There are also a number of pods dotted around for meetings and one-to-one breakout sessions. Further informal break out areas include The Lane which is an informal, inclusive space complete with graffiti art.
With contact centres conjuring up images of long halls filled with individual workspaces side by side, the Webhelp/EE contact centre breathes new life into this picture. This full of life, professional working environment is interactive, inclusive, innovative and fun.
What's more, it has the employees' interests at the heart of every creative nook and cranny. The team are more engaged when it comes to learning and development, allowing for fantastic business results and a promising future for both employers and employees.
---
Additional Information
Andy Doig is Chief Operating Officer at Webhelp UK.
For additional information see Webhelp UK's Website
Photograph Caption: Webhelp UK's Derby Contact Centre which handles both EE and Sky outsource contracts.