The "UK Contact Centre Decision-Makers' Guide (2020/21 – 18th edition)" is the major annual report studying the performance, operations, technology and HR aspects of UK contact centre operations.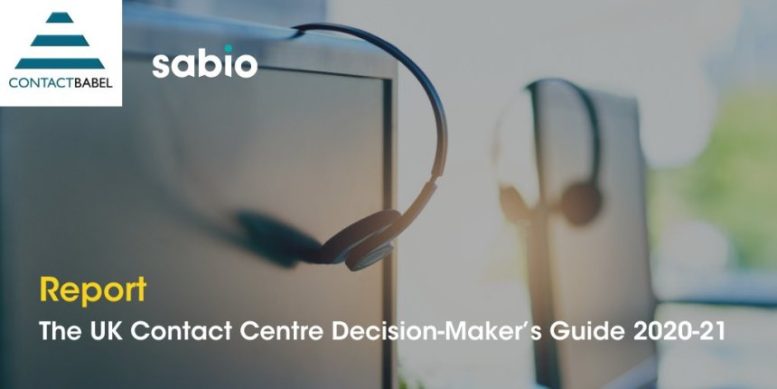 Taking a random sample of the industry, a detailed structured questionnaire was answered by 233 contact centre managers and directors in September and October 2020. Analysis of the results was carried out in November 2020. The result is the 18th edition of the largest and most comprehensive study of all aspects of the UK contact centre industry.
"The UK Contact Centre Decision-Makers' Guide" identifies seven of the major pain points and issues that affect the contact centre industry:
› Improving Quality and Performance in thew contact centre
› Maximising Efficiency and contact centre Agent Optimisation
› Digital, Cloud and the Customer of the Future
› Outbound, Call Blending and Proactive Customer Service
› The Customer Experience
› HR Management
› Strategic Directions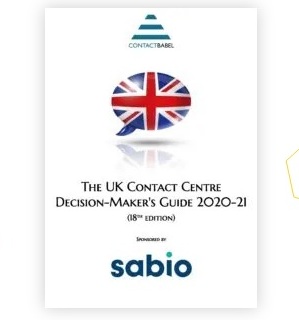 To download the UK Contact Centre Decision-Maker's Guide 2020-21 report Click Here
Sabio Group, which includes Sabio, Dvelp, flexAnswer and Coverage Group, delivers solutions and services that seamlessly combine digital and human interactions to support outstanding customer experiences. Through its own technology and that of world-class technology leaders such as Avaya, Genesys, Verint, Twilio and Google, Sabio Group helps organisations to optimise their customer journeys by making better decisions across their multiple contact channels. The group works with major brands worldwide, including Aegon, AXA Assistance, Bankia, BBVA, BGL, Caixabank, DHL, Essent, GovTech, HomeServe, Liverpool Victoria, M1, Office Depot, Saga, Sainsbury's Argos, Telefónica, Think Money and Transcom Worldwide.
For additional information on Sabio visit their Website