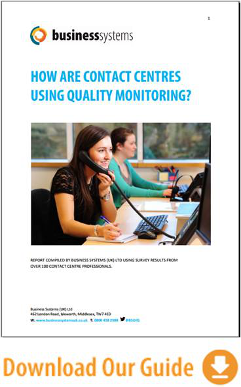 Quality Monitoring Survey – When your agents are successful your contact centre will also be successful. Unfortunately the reality of a contact centre is a hive of commotion with tough targets to hit, strict budgets to stick to and staff shortages a commonality.
In order to stay on top of the commotion, the right Quality Monitoring software can quantify the success of agent interactions making it easy to develop agent performance, enhance customer service and drive business revenue. Most contact centres will have a form of QM in place, however the method used can vary greatly, potentially impacting the success of any organisation.
Last year, our survey titled 'How are Contact Centres Using Quality Monitoring?' showed that although 92% of contact centres evaluate agent calls on a standard basis, only 30% have a Quality Monitoring software in place, and just 25% have a dedicated Quality Monitoring team.
This year, we have teamed up with The Forum to find out more about how Contact Centres in the UK are using Quality Monitoring in 2016 and whether it is gaining momentum as an integral part of the contact centres' strategy.
If your contact centre follows a quality monitoring / quality assurance programme, whether basic or advanced, please take 5 minutes to complete our survey.
(ps. Make sure you provide us with your email so you can receive a detailed report on the state of Quality Monitoring in 2016, as well as a Starbucks drinks voucher!)
---
Additional Information
To be part of the Survey Click Here
For additional information about Business Systems visit their Website or view their Company Profile