Last year, our survey titled 'The state of workforce management in contact centres – 2016?' showed that 90% of those who have a workforce management solution in place do not derive the expected value.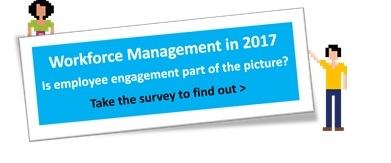 Is this still the case? How have things developed since then?
This year we have teamed up with The Forum to find out how far contact centres have come in incorporating Workforce Management into their operation and into their employee empowerment programmes.
Are contact centres ready to accommodate their employees' changing lifestyles and preferences to improve their engagement and loyalty, and empower them towards driving performance and formulating customer experiences?
If your contact centre has implemented or plans to implement a Workforce Management technology, whether basic or advanced, please take 5 minutes to complete our survey. 
Make sure you provide us with a valid email so you can receive:
– the detailed report on the results from the survey
– a free Starbucks drinks voucher!
---

Additional Information
For additional information on Business Systems visit their Website or view their Company Profile