Newly branded IP Integration Named Enterprise Growth Partner of the Year by Westcon-Comstor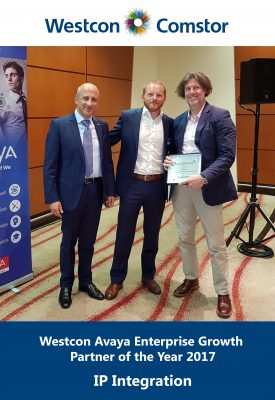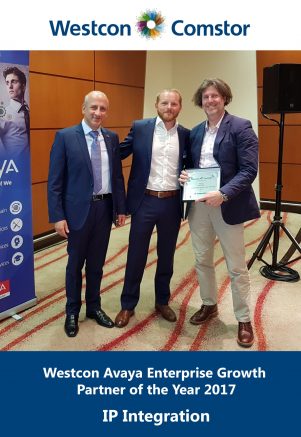 IP Integration, a leading provider of customer engagement solutions, has been merited with the 2017 UK Enterprise Growth Partner of the Year Award by distributor, Westcon-Comstor.
The award, which recognises the part that IP Integration has played in successfully selling and supporting Avaya solutions over the past twelve months, was presented during the recent Westcon-Comstor roadshow.
"IP Integration has consistently demonstrated an ability to win major new enterprise customers and establish long term client relationships, both of which have contributed to a hugely successful Avaya number in FY17," commented John Nolan, UCC Sales Director, UK and Ireland at Westcon-Comstor. "We have been impressed by IP Integration's ability to differentiate in the market, their considerable in-house expertise through their CTI Labs business and their continued investment in R&D and sales operations. Congratulations for an excellent performance."
IP Integration is celebrating the award as it launches its newly branded website to the market. The new site delivers fast access to essential information and features for customers and partners. It also aims to provide a more comprehensive understanding of the services and applications it offers.
"We have enjoyed continued success working in partnership with Westcon-Comstor to build our Avaya business over several years and we are delighted that this has been recognised by this prestigious award," commented Dave Glasgow, Sales Director at IP Integration. "We hope that with industry endorsements such as this and the launch of our new website which offers improved functionality and rich content, we will be well placed to continue growing and developing Avaya business."
Joe Prentis, CEO and Founder of IP Integration said: "It is great to receive this endorsement from Westcon-Comstor at a time when we are focused on ensuring our customers have a clear view of the company through our re-branding. We are a long-established organisation in this sector, but our approach is innovative and the new branding is a great way to illustrate this."
---
Additional Information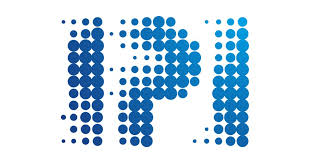 IP Integration is the UK's leading independent Systems Integrator, transforming the provision of customer service. We offer technology solutions from leading vendors as well as developing our own, bespoke solutions to meet our customers' requirements, enabling us to deliver award-winning, value-add solutions. Headquartered in Reading, Berkshire we have regional offices in Manchester and Edinburgh and provide 24 hour service and support, nationwide.
For additional information view their Company Profile