Customer Experience (CX) makes the world go round. But how much do you really know about making it unforgettable and impactful for your company? True CXcellence is about giving more, and in 2021 we all focus on improving experiences for customers, teams, and companies alike.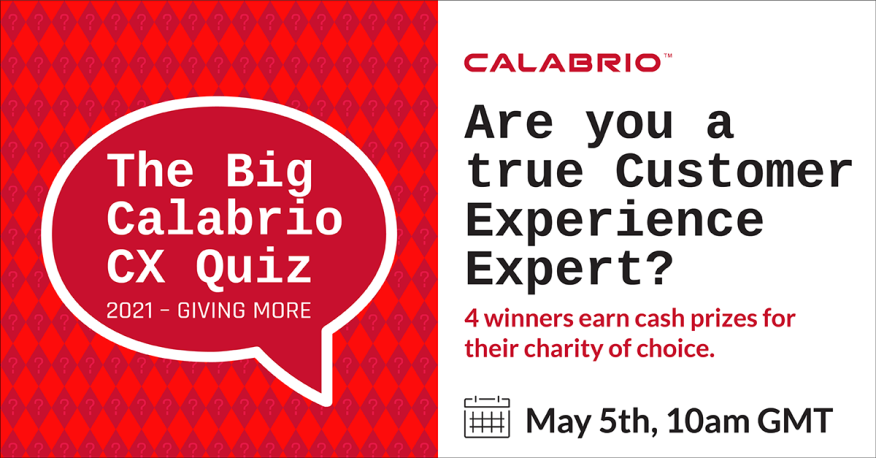 Join Calabrio in our first annual CX quiz that tests—and rewards—your expertise in arguably the most important aim of contact centres.
1 hour + 16 questions + multiple discussions = An unforgettable experience.
You and your fellow contact centre industry professionals will compete and learn. Your host, James Dodkins, renowned CX industry thought leader, will lead, educate, and entertain on these key topics and how to achieve CXcellence in:
» Analytics-driven service
» Ways to power your super agents
» The right customer conversations
» Operational best practices for a competitive edge
We promise you'll walk away recharged, reinspired, and reconnected.
CXcellence Awards 2021
Giving more also means contributing to make an impact.  Four winners, on behalf of their companies,will be awarded with a cash prize to be donated to the charity of choice.
1 x First prize: £400
3 xRunners up: £$100
Your Host: James Dodkins, CX Expert
James used to be an actual, real life, legitimate, award-winning rockstar. He played guitar in a heavy metal band, released albums and tore up stages all over the world, James uses this unique experience to energize, empower and inspire his clients and their teams as a 'Customer Experience Rockstar'.
Not only is he an international keynote speaker, #1 Best Selling author and host of Amazon Prime's 'This Week In CX', James is also the UK's #1 Customer Experience Influencer.

For additional information on the event or to register Click Here


Calabrio is the customer experience intelligence company that empowers organisations to enrich human interactions. The scalability of our cloud platform allows for quick deployment of remote work models — and it gives our customers precise control over both operating costs and customer satisfaction levels. Our AI-driven analytics tools make it easy for contact centres to uncover customer sentiment and share compelling insights with other parts of the organisation. Customers choose Calabrio because we understand their needs and provide a best-in-class experience, from implementation to ongoing support.
For additional information on Calabrio view their Company Profile