Building a Cloud-First Approach to the Modern Contact Centre Experience – Moving to the cloud is no longer optional.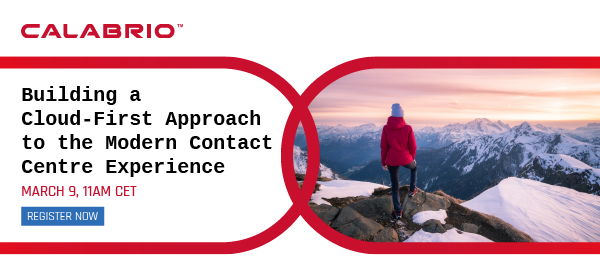 Moving to the cloud is no longer optional. Your customers simply expect the responsiveness and agility you only get from working with a cloud-based contact center platform.
Moving to a cloud contact center can also prove valuable with virtually limitless resources; fast, cost-effective scalability to accommodate seasonal changes and sustained growth; and access to new or more robust technology.
From elevating customer experience to enhancing employee engagement through the power of analytics, join Calabrio as we demystify cloud technology, show you a path forward, and talk tangible benefits of moving to the cloud.
In this webinar, you will learn:
» What and where is the cloud?
» Why cloud drives innovation
› How will cloud enable improved Customer Experiences and Employee Engagement in the future?

To register for this Webinar Tuesday 9th March 2021 Click Here
Calabrio is the customer experience intelligence company that empowers organisations to enrich human interactions. The scalability of our cloud platform allows for quick deployment of remote work models—and it gives our customers precise control over both operating costs and customer satisfaction levels. Our AI-driven analytics tools make it easy for contact centres to uncover customer sentiment and share compelling insights with other parts of the organisation. Customers choose Calabrio because we understand their needs and provide a best-in-class experience, from implementation to ongoing support.
For additional information on Calabrio view their Company Profile