Webhelp UK is celebrating the 20th anniversary of its longest standing team member.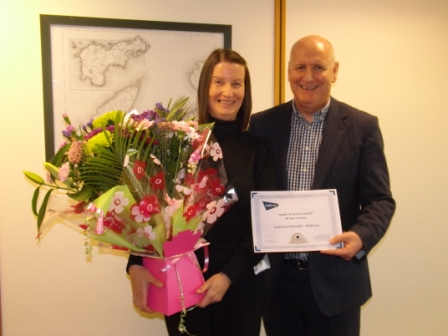 To recognise the achievement, the business' chief executive officer, David Turner visited Rothesay's customer experience contact centre for a day of fun and reminiscing.
Jacqui Reynolds, originally from Arran, was one of the very first recruits, employed before the Rothesay site was even established. She began her career as a receptionist followed by a period working as part of the company's recruitment team, before becoming a campaign manager.
Providing customer support on behalf of some of the UK's most progressive brands including Sky and EE, Webhelp UK, part of the Webhelp Group, is one of the largest employers in Scotland with 2,800 team members. (Across the UK, the business has a 6,000-strong team based at ten sites, with headquarters in London.)
David Turner made a special trip to the company's UK origins, the Rothesay experience centre, to thank Jacqui for her commitment and continuing service. He presented her with vouchers, a special bouquet of flowers and bottle of champagne.
A further five of Jacqui's colleagues, Catherine Docherty, Helen McCallum, Irene Hughes, Jacqueline Howard and Janet McKay, were each thanked by David and presented with their vouchers and flowers for their 15 years of service at Webhelp UK.
Jacqui is also set to attend Webhelp UK's annual 'length of service' dinner this year at the Trump Turnberry Resort, along with fellow colleagues that have each spent 10 years or more with the business.
Commenting on his visit to Rothesay, David said: "We are extremely grateful to the Rothesay team for their long-standing service. Jacqui, in particular, has been able to progress with us as we have evolved over the years, reflecting her dedication to both her immediate team and the wider Webhelp Group.
"Our business has grown massively in the last 20 years, but it's important to remember where our UK business started, and that was here in Rothesay.
"Webhelp is only as strong as the people who work in it, and they should all be very proud of what they have contributed, not only to the growth of Webhelp but to the growth of the community as well."
Jacqui added: "It is great to have the hard work of both myself and my fellow team members acknowledged and David's visit to Rothesay to thank us personally made us feel truly valued.
"A lot can change during 20 years of anyone's life so having the opportunity to progress my career at Webhelp throughout this time has given me real security while allowing me to achieve my career goals."
---
Additional Information
Webhelp UK is part of the Webhelp Group; customer experience innovators across a range of digital, social and traditional voice channels to a diverse international client base.
From 10 locations across the UK, Webhelp provides multi and omni-channel services to some of the UK's most progressive brands and businesses. Webhelp UK, which has its operational headquarters in Falkirk, Scotland, has grown its revenues by 112% in the last four years by focusing on value-based outsourcing, omni-channel engagement and experience analytics to create optimal customer journeys.
For additional information see the Webhelp UK Website