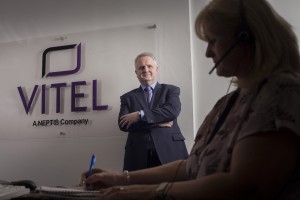 An enhanced call centre operation that officially launches today in Glasgow is creating 120 new jobs, with hopes of quadrupling its workforce by early next year.
Vitel will also offer a broad range of skills to clients, including business advice and PR and marketing expertise as well as a multi-lingual tele-sales service.
Vitel is now part of the newly-formed Neptis Group whose CEO Joe Costello acquired Bellcom Worldwide in March and has since seen the workforce increase from 50 to 60 with the addition of new agents and managers.
New contracts agreed with companies in the water and waste services, insurance, business improvement and energy efficiency industries will result in 120 new jobs by the end of this year.
Potential business with new and existing clients is expected to see staff levels rise to over 200 in early 2015.
By linking with Lucid PR, Events and Marketing, which is also part of the Neptis Group, the company will be able to offer a one-stop-shop service of a kind that is rare, or possibly unique, in the industry.
Vitel, whose name derives from the words 'vital' and 'telephone', says it has always and will continue to distance itself from the 'sweat shop' and employee churn image of the contact centre industry by offering staff training and a promotion and bonus structure to help career progression and keep workers long term.
It's strategy also includes showing industry leadership in working towards paying lower-paid staff the Glasgow Living Wage.
Vitel employees range from teenagers in their first job to staff in their 40s and 50s who have received training to help them return to work.
The acquisition marks a return to the call centre business for Joe Costello who was managing director of the Glasgow-based Essentia Group from 2000-2010. During that time the company grew from having one site to five, turnover rose from less than £2 million to £13 million and the workforce expanded from 60 to 500.
He said: "Our unique set of skills sets Vitel apart from other contact centre operations. If a client needs to launch a new product or service we can offer strong business advice, creative PR and marketing assistance and expert sales and customer service support. We can provide the service from beginning to end and I don't know of another contact centre of our size in the UK that can do that.
What we are trying to do here is create a crack sales force which is well paid and wants to stay long term to develop a range of skills. We have a salary and promotion structure that allows us to do that.
"There are a lot of hire-and-fire places that treat people with a lack of dignity which I cannot understand. While the clients and services we support may change, the staff and emphasis on training to improve their skills won't."
One of the new management team at Vitel is David Mackay, who has been promoted to Centre Performance Manager. He said: "Vitel brings a new energy and business style to the industry and our clients. Staff here can enjoy the benefits of working in a good environment, being well paid and having the training opportunities to improve their skills and see a career path ahead. That helps create a smart and loyal team.
"Also, by working closely with or colleagues in Lucid, we can provide a package of support for clients that is second to none."
---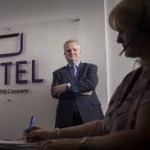 Additional Information

For additional information visit the Vitel Website