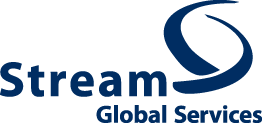 Stream Global Services held a grand opening ceremony (3rd October) to commemorate its newest contact Centre, which is located in Belfast. The new facility on Airport Road West offers an exceptional work environment along with advanced technology to help provide consistent, reliable service for Stream's clients. Stream already employees several hundred people at its newest Belfast site, and is currently recruiting to fill nearly 400 more positions in the near term. The company also operates a separate contact Centre in Springvale where it employs several hundred people.
The grand opening celebration featured Stream Chairman and CEO Kathy Marinello, along with senior regional executives Cormac Twomey, managing director for Stream Intelligent Contact, and Patrick Forrester, country manager for Stream in Northern Ireland. The Stream executives were joined by several political dignitaries from Northern Ireland.
Stream is a global provider of business process outsourcing services for many Fortune 1000 companies and large regional companies in the UK. The company operates more than 55 contact Centres in key geographies globally. The new Loughview facility will house new client workload related to the company's Stream Intelligent Contact business in the UK. Employees at the Loughview facility will represent some of the region's leading brand names in telecommunications, utilities and financial services.
"Our new Loughview facility is a showcase location for Stream globally. It is a beautiful facility in an amazing location with advanced technology behind the scenes to help provide the stability and reliability that our clients expect," said Marinello.
"Most importantly, we see this as a place that will attract exceptional people – individuals who want to build careers with a global enterprise while representing great companies. We are committed to providing a caring environment where people get the support, training and development opportunities that they need to discover and reach their potential."