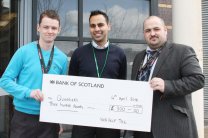 A team of four customer experience professionals from Webhelp TSC in Greenock has helped raise £9,970 for Scottish social care charity, Quarriers, as part of an annual charity golf day at Mar Hall Golf and Spa Resort in Bishopton.
Quarriers supports children, families and young adults across the UK and is the official charity to the 2014 Ryder Cup.
Robert Steele, Christopher Hempsey, Christopher Hennan and Mark McFadyen from Webhelp TSC in Greenock were invited to take part in the annual golf day following a £300 donation to the charity by Webhelp TSC earlier in the year. Quarriers was one of three charities chosen by Webhelp's Greenock team to receive a business donation, and it is a cause that is close to their hearts.
Webhelp TSC GolfersThe Webhelp TSC team faced some tough competition on the five star course, but what they lacked in experience, they made up for in enthusiasm and dedication.
The climax to the fundraising day was a prize-giving ceremony in the resort clubhouse. The team were awarded 'The Lucky Yellow Ball' trophy, after managing to make it through the full 18 holes without losing it.
Mark McFadyen, from Webhelp TSC in Greenock was one of the lucky four picked to participate in the charity event. He commented that being able to take part in the day with the support of Webhelp TSC and his colleagues in Greenock gave him a real sense of achievement, and has even motivated him to take up playing golf regularly again.
Mark said: "Representing Webhelp TSC at the Quarrier's Annual Golf Day was an amazing experience, especially given the opportunity to compete on the Earl of Mar course and play our part in raising such an impressive amount of money for such a worthy cause.
"Being back out on the green has inspired me to start playing regularly again and everyone at the Greenock site is looking forward to planning our next fundraising event."
Robert Steel, who is a Webhelp TSC Ambassador in Greenock and co-ordinated the team's entry, said: "There was a lot of interest from Webhelp TSC's Greenock team in taking part in the day, so we thought the fairest way to select a team would be by drawing names out of a hat. The four of us had a fantastic day on the green and felt really proud to represent Webhelp TSC and help raise money for Quarriers.
"Quarriers has a long history in Scotland and their work is life-changing for so many people. We've been really inspired by what they achieve and are looking forward to working with them again soon."
For additional information see Webhelp UK's Company Profile