Alaska's largest water and waste water company, Anchorage Water & WasteWater Utility become Alaska's first company to install Optymyse™ Visual Communications Solutions from SJS Solutions.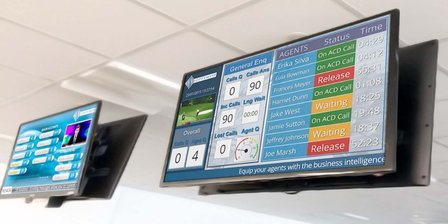 Anchorage Water & Wastewater Utility is the largest water and wastewater utility in Alaska. Including Anchorage, Chugiak-Eagle River, Peters Creek, Eklutna and Girdwood the Utility provides service to over 56,700 customer accounts which equates to an approximate population base of 233,270 residents.
Delivering drinking water and sewer services in a climate whose average annual temperatures ranges between 70 and minus 20 degrees Fahrenheit has its challenges, but that does not prevent AWWU from offering excellent customer service. After investing in a new ShoreTel ECC contact center solution, the Utility wanted to provide their Customer Representatives with an easy way to monitor their performance and ensure their callers are not kept waiting.
After using supervisor reports on large format monitors, Curtis Hupton, AWWU Information Technology, System Analyst, contacted SJS to ask if they had a low cost product that would allow its Customer Service Division more flexibility. The Utility wanted to communicate with its Customer Service Representatives via scrolling messages, and allow representatives to view information from anywhere in Customer Service Centre.
Initially SJS offered their Optymyse™ 4.2 product, a solution which offers a host of screen design features, multi-media and ODBC feed capabilities. Although Optymyse™ 4.2 was an attractive product, because of the number of representative at the AWWU Customer Center and budget limitations, a less complex, more cost effective solution was necessary. SJS Solutions entry level wallboard product known as Optymyse™ Instant is completely browser-based and gave the Utility the features it needed to improve internal communications.
Hupton was quick to praise SJS for their efficiency. "Downloaded and installed," he said. "So easy to get working! Others need to take lessons from you."
SJS Solutions will soon announce the launch of a replacement to Optymyse™ Instant. Optymyse™ Express will use the same platform as their current flagship product. The decision to retire Optymyse™ Instant was made because this product is based on older technology and does not offer the same screen design flexibility as can be had with the new range of Optymyse™ Visual Communications Solutions, due for release early 2015.
"Optymyse™ Express and Professional will both be browser-based systems, they will both offer Full HD clarity plus licences for agent desktops, mobile devices and TVs will be available. Unlike some other wallboard solutions there will be no visible frames. The most significant improvement for 2015 is the use of SJS Solutions latest screen designer technology across the whole product range.
Express will be perfect for organisations with small or informal call or contact centers, while Professional will suit mid to large sized contact centers with more screens, data feeds and agent desktop requirements, and for larger enterprises where highly dynamic, multi-media ready screens are a must SJS are taking their best performing product to a whole other level, "Optymyse™ Enterprise will be a game changer on functionality, ease of deployment and price" Said CEO, Stephen Pace.
In order to ensure their customers always benefit from the best technology SJS has to offer, SJS have said that customers who have recently purchased Optymyse™ Instant and who remain up to date with support and maintenance payments will receive their upgrade free for at least the first six months, when they sign up for Optymyse™ Express or 3 to 6 months for Professional. SJS have asked that any Optymyse™ Instant users who feel they need more flexibility or functionality to help them improve agent motivation and communication via TV screens, agent desktops, IPads and other mobile devices contact SJS Solutions for more information about their upgrade deals.