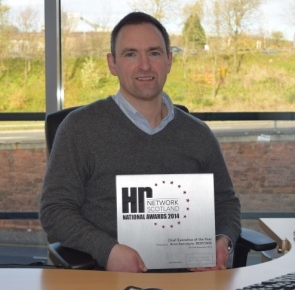 Leading UK customer management specialists RESPONSE were celebrating more success after taking home another top accolade at a glittering awards ceremony held In Glasgow (13th November).
The firm triumphed at the annual Hr NETWORK NATIONAL Awards, with Managing Director Brian Bannatyne winning the coveted "Chief Executive of the Year' award in recognition of his role in transforming the business since taking over in early 2009.
Through an unwavering commitment to delivering cultural improvement Brian has been able to radically change the nature of the business, putting greater focus on both employee engagement and strategic client partnerships in order to drive business performance.
After the announcement Brian said: "It's great to get external recognition for the business. We have made a lot of progress over the last 5 years and that's down to the hard work and creativity of our people. RESPONSE looks and feels quite different today and our capability has been hugely improved. "
"With our MBO now complete our progress going forward will be even greater. In another 5 years' from now the business will be unrecognisable from what it is today. Very exciting times lie ahead".
Lee Turner, Founder and Publisher, Hr NETWORK added:"The competition within the Chief Executive Award in this year's Hr NETWORK National Awards was the highest it's ever been and RESPONSE's Brian Bannatyne we have a talented leader who the judges said has demonstrated a clear understanding of developing his people. "
"Furthermore, the judges felt Brian had done a brilliant job developing and implementing a strategy from the top down in a complex environment and described him as an extremely approachable CEO who deserved all the credit for an award winning leadership style."
The Hr NETWORK National Awards are the largest and most prestigious HR awards in Scotland. Launched in early 2007, the awards are designed to recognise, acknowledge and reward the champions of the Scottish HR profession.
The dinner, which was hosted once again by TV personality Stephen Jardine, took place at the impressive Glasgow Hilton in a 'Broadway Show' themed evening which featured music from a wide variety of stage shows from across the years including Phantom of the Opera, Wicked, Cats and Dreamgirls.


For additional information see RESPONSE's Company Profile