Phone and live chat is on the rise, but only 6% of customers use social media to contact brands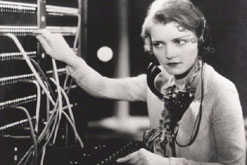 The number of customers choosing to use the telephone to contact companies has increased more than any other channel over the last 12 months, with customers showing reluctance to use social media when interacting with a contact centre, according to a new report from Mitel.
The annual study, based on a survey of 2,000 UK consumers, reveals that while almost half (47%) choose to contact friends and family via social media, only 6% prefer to use this to contact companies. In contrast, live chat has doubled in popularity since 2013, while email and telephone remain the most-used channels.
The Mitel report, Multichannel Engagement: the customer-driven contact centre 2014, presents the findings of the consumer research, exploring how and why customers are interacting with companies and highlighting trends since the last report in October 2013.
The survey reveals that, while email continues to be the most popular channel for customers, used by 79%, the telephone has seen the greatest increase in usage by customers over the last 12 months, rising from 49% to 60%. Significant numbers are also continuing to use post, in-person and online contact, showing a desire to use a variety of channels to interact with companies.
However, despite the popularity of multiple channels, this year's report shows a clear desire from customers for a single point of contact with a company, with 79% saying they want to be able to talk about all their queries with just one person. Speed, efficiency and effectiveness are also important influences on the customer experience, with getting a quick response and being able to reach the right person to handle a query cited as critical when contacting a company.

"There are some important message for businesses and contact centres to take away from the report. While customers may have a preference for some channels over others, there has been increasing use of all communication channels over the last 12 months, and the influences on customer satisfaction are largely the same," comments Steve Powell, Sales Director of Contact Centre Solutions at Mitel. "There is little excuse for any business not to understand customer demands and create a multichannel approach that delivers a high quality experience."
Crucially, the report reveals what happens when companies get their contact centre approach wrong, with almost three quarters (73%) of customers confirming they have or would change supplier based on a poor experience.
When it comes to the sectors that are getting it right, the most positive experience is being delivered by the travel and leisure industry, with contact with government services and telecoms companies (broadband, telephone and TV services) scoring most negatively.