Enghouse Interactive Whitepaper: Why Make Life Harder For Yourself!
Download the Whitepaper to find how to create a truely integrated customer experience
Integrate your people, processes and systems to reduce effort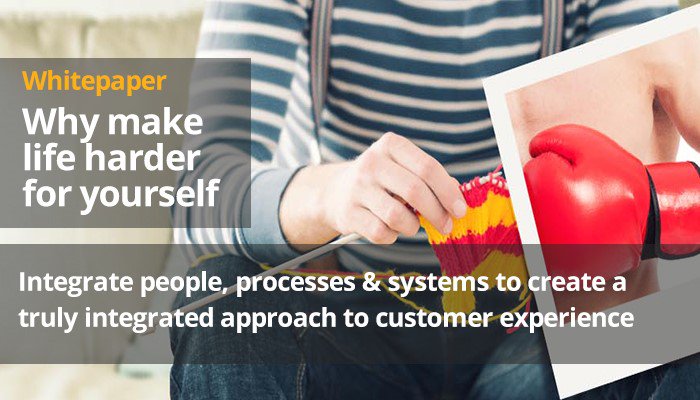 Customers want continuity and great customer service. They want your call centre agents to know who they are, what interactions they have had in the past, and not have to repeat information they have already provided. However, delivering this kind of approach effectively is in large part dependent on successfully integrating data and systems across the entire organisation.
The question is: does your business's approach to customer engagement offer this kind of smooth and seamless interaction, supported by high-quality integration, or is it more like running a race in high heel, knitting with boxing gloves or going the wrong way down a one way street, or swimming against the tide – in other words, a frustrating and difficult experience?
Businesses should remember that in trying to create an optimised customer experience, one of the biggest and fastest wins they can achieve will come through successfully integrating the two worlds of customer insight delivered through their CRM and transactional systems and customer experience delivered through their interaction platform.
---
Additional Information


Download our latest whitepaper "Why Make Life Harder for Yourself" which explores the world of integrating, people, processes and systems within your customer contact environments Click Here
For additional information on Enghouse Interactive visit their Website or view their Company Profile