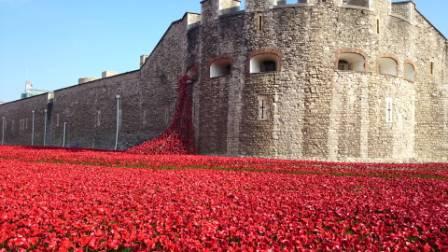 15,000 calls handled in first two weeks alone
Echo volunteers visit Tower to 'plant' poppies to help reach target of 888,246 by Remembrance Day
Outsourcer won customer contact contract thanks to proven ability to rapidly mobilise and flex a large team to handle unpredictable contact volumes
Echo Managed Services has announced that it is delivering the contact centre for the groundbreaking 'The Tower of London Remembers' event that marks 100 years since the start of the First World War through the 'Blood Swept Lands and Seas of Red' installation in The Tower's famous dry moat.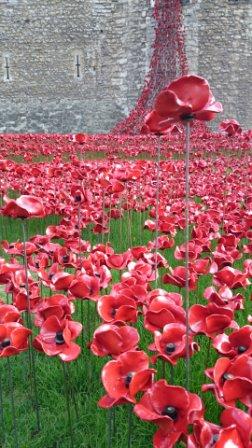 Each of the 888,246 poppies represents a British or Colonial military fatality during the War, and the last poppy will symbolically be planted on Remembrance Day on 11 November 2014. Using a purpose built online platform or the contact centre, customers can register their interest in buying a poppy when the installation is complete. The resulting proceeds – potentially worth millions of pounds – will benefit six service charities.
A national media publicity campaign centred on the unveiling of the installation by HRH The Duke and Duchess of Cambridge and Prince Harry on 5th August (to coincide with the outbreak of the War) generated over 15,000 telephone and email orders and associated enquiries within the first two weeks. Ongoing demand continues to be consistent, with further publicity planned to optimise poppy sales and proceeds.
For the launch, customer service specialist Echo rapidly recruited and trained a 60-strong team of agents at a week's notice. For the 14-week period until Remembrance Day, Echo has continued to provide a highly flexible and scalable agent resource – backed by sophisticated automated voice technology – to optimise the efficient handling of unpredictable demand from what is a truly unique as well as high profile fundraising and commemorative event.
"We chose Echo for this important project because the team clearly had the ability and demonstrated its appetite to adopt a necessarily agile approach to the design, implementation and operation of a service with a very challenging deadline, incomplete scope and unpredictable level of demand," commented the Head of Operations and Security at The Tower Of London. "Echo's team are continuing to provide a flexible resource as well as comprehensive insight into the evolving patterns and nature of demand and recommendations for service enhancement, helping us to ensure we plan and meet our campaign objectives most cost-effectively."

"At Echo we're very proud to have been chosen to support such a prestigious, high profile commemorative and fundraising event," added Nigel Baker, Managing Director of Echo Managed Services. "As well as offering a comprehensive managed contact centre service, I'm also particularly proud that members of the Echo team supported the project personally by joining the team of volunteers 'planting' poppies at the Tower."
He continued: "much of Echo's marketing focuses rightly on promoting the strength of our technology and skills in enabling organisations to establish long-term, complex, multichannel customer journey and relationship management services. It is not the first such campaign we have successfully delivered in recent months requiring rapid mobilisation and flexing of skilled agent teams to meet unpredictable, event-driven demand. However, The Tower Of London Remembers demonstrates we also have the ability and appetite to support tactical/short term engagements to a high degree of client and service user satisfaction.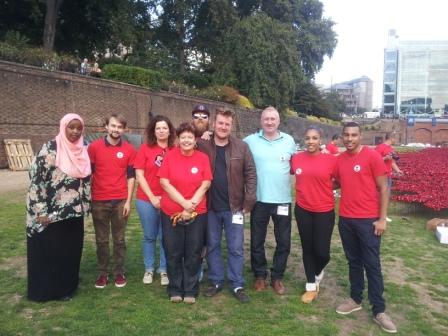 Volunteers from Echo Managed Services help to plant commemorative poppies at The Tower of London. Pictured left to right are Huweda Ismail (Team Leader), George Thompson, Eve Marangon (Contact Centre Manager), Mandy McCubbin, (Account Manager), Tom Lewis (at the back), Paul Cummins & colleague (ceramic artist who designed the poppies), Echo's Rachel Clarke and Reece Kelly.