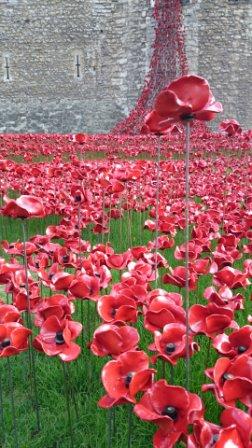 Recent average call levels of 350 a day peak to 6,500 following Her Majesty the Queen's visit
Over the last few weeks Echo Managed Services has successfully handled a number of major surges in customer call volumes for the 'The Tower of London Remembers' event, specifically following the visit of Her Majesty the Queen and The Duke of Edinburgh to the Tower's major 'Blood Swept Lands and Seas of Red' poppy installation.
People have been calling customer service outsourcer Echo's Bristol-based contact centre as the company is handling the customer service part of the project, with the 888,246 ceramic poppies – each representing a First World War British military fatality – being offered for sale in order to raise funds for six service charities. After the initial launch in August, Echo was handling an average of 350 calls per day in the run up to the publicity. However, following Her Majesty's visit and a feature on BBC TV's The One Show earlier this month, customer demand increased 20-fold with the Echo customer contact team receiving peak volumes of some 6,500 calls a day.

Nigel Baker, Managing Director of Echo Managed Services; "It has been an exciting and unique project to work on. At the beginning we rapidly recruited and trained a 60-strong team of agents and were up and running taking calls with just a week's notice. It was obviously difficult to predict demand levels as this is one-off project, and we needed to work closely with the organisers – Historic Royal Palaces – to map forecasted demand against planned publicity. We scheduled additional agents and opening hours to fulfil projected interest – such as the late scheduling of The One Show feature – and were delighted to handle such a huge spike in interest for the installation's ceramic poppies.
"During the 7-8pm slot around The One Show, for example, our agents were presented with over 2,500 calls – in contrast to the 350 calls received earlier that day. Following Her Majesty the Queen's visit and the resulting TV and news coverage we were offered a further 2,500 calls on the Thursday and just under 6,500 on the Friday – an impressive 20-fold increase," added Nigel. "The project has showcased Echo's flexibility and ability to handle demand levels even during major volume spikes, and it's great news that all the poppies from the Blood Swept Lands and Seas of Red' installation are now sold."
The final poppy in the installation will symbolically be planted on Remembrance Day on 11 November 2014.