How to secure customer loyalty and profits through providing an excellent customer experience. Steve Shellabear, Managing Director of dancing lion looks at how providing an excellent customer experience has an effect on customer loyalty and, perhaps more important, profit.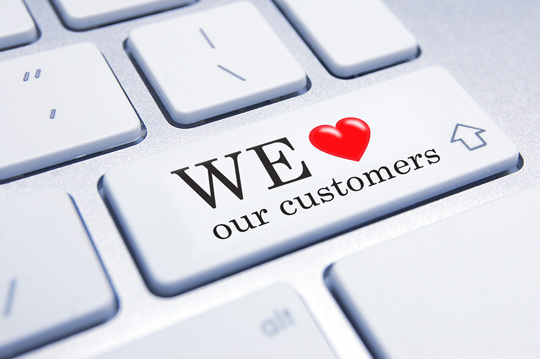 As business becomes increasingly competitive, brand loyalty decreases and customers enjoy greater level of empowerment and choice, maximising the customer experience has been shown to be key to building and maintaining the customer relationship.
But how can a business ensure it's frontline staff are truly able and committed to delivering the customer's brand promise, give real customer value, as perceived by the customer and maximise opportunities to give value through advice, deal with enquiries and complaints well?
Whilst we might first think of providing staff with a training programme, in reality there are a number of interdependent elements that will impact on the service the customer receives.
Below is a snapshot of some of the most important areas for you to consider:
Recruitment
Do you have the right people in the role? Many people have traditionally entered work in a customer service environment either because they enjoy helping people, or it was assumed that they would grow into the role. Whilst helping another is a natural human inclination and most people want to make a positive contribution at work, providing the 'wow' factor in a customer experience takes much more than this. A proactive, committed approach and the required skill set are required to truly demonstrate care for customers.
Training
Many front line staff jobs have potentially routine tasks that can become repetitive and boring unless the focus is placed on maximising the experience of the customer.
The truth is, each customer is unique and each transaction and conversation is also unique. An organisation can quickly differentiate itself from its competitors by prioritising the customer's experience, differentiating between levels of service provided and investing in training in the key behaviours and know how to influence that experience.
Key components are: • Delivering on the service promise • Meeting and exceeding customer expectations • Dealing with queries and issues • Recovering service failures • Managing complaints • Giving value through advice • Giving a personal touch
Can you train someone to care? No.
Of course, you can show people how to be polite, empathise, build and sustain rapport, give value through advice and deal with complaints professionally. But true caring is based on showing kindness and concern for others. Giving value through advice can be encouraged in a supportive environment where a long-term view is maintained in managing the customer relationship. This is not just some altruistic nice to have. Customer analytics, such as the life-time customer value metric, clearly show that where a customer feels recognised and valued they will become an advocate, remain loyal, increase their spending over time and recommend to others.
Effective management and coaching
Research has shown that support from the immediate manager or frontline supervisor is critical in building a sense of belonging, engagement, responsibility and transferring know how and skills to front-line staff. For the supervisor or team leader to be effective, they in turn must enjoy the support of their line manager.
Mentoring, coaching, personal development plans (PDPs), regular performance reviews and appraisals all have their part to play in maintaining optimum service levels.
Values
Although you may not see it, there is an invisible chain of service that runs throughout the organisation with the external customer reaping the final benefits, or otherwise. This chain of service will be influenced by the culture of your organisation. Any chain can only be as strong as its weakest link. The chain may be strong, weak or broken. If you don't know how strong the service chain is then that is a sign a review may be required.
A major factor that influences the service chain is your organisation's culture. This is underpinned by the predominant values that are held by everyone who works there.
Of course, the more senior the people are the more likely they are to be major influences on how things are done. Many of these values will be embedded in policy and working practices that are accepted as normal. Unless they are subject to regular review not all may serve the organisation or its people fully. If the culture does not encourage open communication, and fear of speaking up is prevalent then a lack of challenge can result, even when people know something is awry. Evidence of this is the many examinations of the black box found after a plane crashes which have shown the crew were aware of faults long before the plane went down but did not speak up because the captain was in charge. Where positive values are upheld in an organisation all staff will benefit, which in turn will increase the feelings of rapport and cooperation between managers and their reports. This positive internal flow of communication will in turn positively influence the way staff members feel about the company and how they interact with external customers.
Systems and procedures
Are your organisations systems and procedures employee friendly? Is the company easy to do business with? With new technology many business processes can quickly become out of date as customers seek new ways to interact with your organisation.
The complaints systems should be well designed to enable staff to respond quickly and professionally. Staff should understand the consequences of commercial decisions and be empowered to compensate customers where key criteria have been met. The systems and procedures should support the frontline staff to ensure that the customer experiences the organisation as easy to do business with and has an enjoyable time.
Measurement
Are you measuring what really matters? There are numerous ways of measuring customer satisfaction now, CSAT, NPS, CES, to name but three. Assessing the appropriate measures and putting in place the right Key Performance Indicators is essential for long-term success.
Summary
Certainly your employees can deliver a value added customer service and shareholder value, if they are allowed to do so. The focus of management should be on ensuring that staff receives effective training & coaching, the organisation's systems are well designed, appropriate measures are in place and the culture is truly customer centric and values based. For organisations prepared to do that, customer satisfaction, profit, return on equity and profit per employee will naturally follow.
---
Additional Information


Steve Shellabear is Managing Director at dancing lion training & consultancy ltd
For additional information on dancing lion visit their Website