Contact Centre: Work From Home Best Practices: With measures around COVID-19 globally escalating, organisations are required to balance employee safety with maintaining critical service to millions of customers. Contact centres are now facing their biggest challenge ever: transitioning office-based representatives to work from home agents.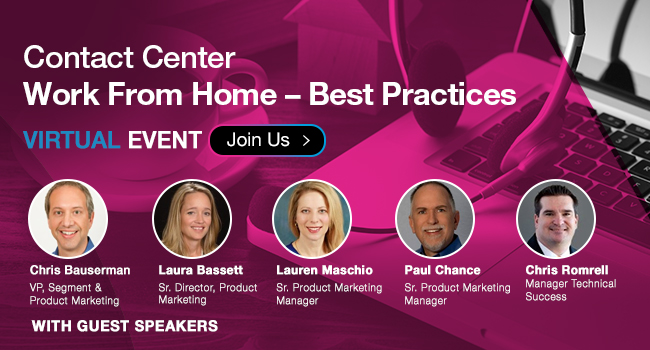 Join NICE in this virtual event to learn from our experts what it takes to successfully transition your contact centre to a work from home environment, and get your questions answered.
Topics will include:
– Transitioning Your Contact Centre to Work From Home
– Setting up the Foundation for Work From Home
– Work From Home: A WFM Perspective
– Managing Home Agents Performance
– Hear From Trupanion and Frontline How They Made a Successful Transition to Work From Home

The virtual event starts on Tuesday, March 31st at 2:00 pm GMT.
To register or for additional information on the Webinar Click Here