The Customer Engagement Centre (CEC) is more than a technology. It's an orchestrated solution and strategy for aligning the entire enterprise around servicing customers.
It fuels profitable growth, increases customer satisfaction. And, it's fast becoming a competitive advantage.

Introducing Aspect Via™ Customer Engagement Center™ the Customer Engagement Centre Solution
The Aspect Via CEC is a complete set of native customer service capabilities, designed to integrate into the larger customer-driven enterprise.
Our cloud ready solution, empowers businesses with the agility, flexibility and operational structure needed to drive profitable growth by addressing changes in consumer behaviors and expectations.
We are pleased to invite you to one of our roadshow stops.
We will present our vison on market trends and companies requirements, and how Aspect VIA can help to build your own customer engagement centre.
Agenda
9:30 – 10:00
Registration and Welcome coffee & bacon rolls
10:00 – 10:30
The place of Customer Services today
Andrew McMillan – Engaging Service
(Former Head of Customer Services @ John Lewis)
10:30 – 11:00
Customer Engagement, the Future of work and the digital employee
Chris Streete – Customer Engagement & Cloud Solution – Aspect
BREAK
11:15 – 11:45
Build your own Customer Engagement Centre with Aspect VIA
-The Aspect VIA value proposition
-Define personalized and effective Omni-channel interactions
-Implement customer experience continuity scenarios
-Role Based and  Use Cases demonstration
Aspect Solution Consultant Team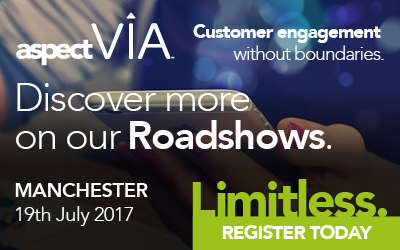 Additional Information
Manchester – 19th July 2017 – 09.30 to 11.45
The Lowry Hotel, 50 Dearmans Place, Chapel Wharf, Manchester, M3 5LH
To register for this event Click Here
For additional information on Aspect Via Click Here
For additional information on Aspect visit their Website or view their Company Profile