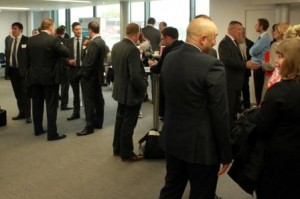 .4net Technologies event, The Changing Face of Customer Contact was held on 30th April 2014 at The Lancashire Cricket Ground. The event attracted a sell out audience and the information packed day showed how evolving customer behavior and the need to put the customer experience is changing how we engage with our customers.
Guest speaker Gary Hardy, Head of Incomes at Midland Heart spoke passionately about new government legislation and the impact this has on the Housing Sector. Gary discussed how this has inevitably changed the way Midland Heart needs to communicate with their customers and how they have turned to technology to support them through these challenging times.
Other presenters from Avaya, Enghouse, Geomant and Random Storm showed through a mixture of live demonstrations and presentations, how changing customer behaviour is driving changing within the contact centre, to evolve into an interactive engagement centre, where customers are serviced across integrated digital and telephony channels.
The feedback from delegates attending the event has illustrated how relevant the information was. Ross McQueen, Customer Services Manager at Blackburn With Darwen Borough Council said, "The Changing Face of Customer Contact event, run by 4net, was an interesting and very information session. The speakers were extremely knowledgeable in their subject field and provided some valuable insight in to what we can all expect over the coming years. My colleagues and I came away with some great ideas that will enable us to deliver some of the challenges we face in our ever changing work environment."
Karen Hough, Joint Head of Operations at Harrington Brooks commented,
'I found the 4net event gave me a great opportunity to review our current contact strategy, and form new ideas of how we can enhance our customer experience in the future. A thought provoking event on the future of customer experience management and the challenges & exciting times ahead.'
The fourth in 4net's series of Workplace 3.0 events will be held on 18th June 2014 at The Heritage Motor Centre in Warwickshire.
They have some great speakers lined up. Back by popular demand is Avaya's dynamic and engaging EMEA Director and CTO Lead, Richard Bennett whose presentation will cover the Future of Work and open your mind to the art of the possible
And they have also engaged Morris Pentel BA(Hons) MBA DBA as a keynote speaker. Morris is a Customer Experience & Contact Strategy Designer and is Chairman of the Customer Experience Foundation. He is the current chairman of the Customer Experience Consortium and he is also the Head of the Institute of Contact Sciences and the Contact Foundation.