– Helps companies improve sales effectiveness, mitigate customer churn and improve mandate compliance
 –  Improves agent performance and supervisor management with proactive notification alerts and guidance using real-time speech detection
 –  Seamlessly integrates with New Aspect Workforce Optimisation 8 suite and leading CRM systems such as Salesforce and Microsoft Dynamics CRM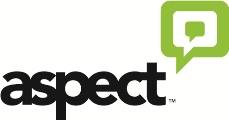 Aspect Software, a leading provider of fully-integrated customer interaction management, workforce optimisation, back-office and award-winning cloud solutions, today announced Aspect Mentor, a real-time speech analytics application that enriches customer interaction quality monitoring and data usability. Aspect Mentor monitors voice with speech detection across the contact centre and automatically sends guidance notifications and intelligent response alerts, based on detected or omitted speech, to agents and supervisors.
By utilising data from customer interactions in real time, companies can not only create a greater customer experience by improving first call resolution but they can also increase revenue by intervening and changing the course of a call as it happens. By recognising upsell cues and flagging customer cancellation warnings, brands will be able to avoid missed sales opportunities and reduce customer churn.
"Aspect's overarching mission is to enhance the customer experience by providing understanding to what is happening with every customer interaction and provide our clients with the tools that allow them to take value-driven action. Real-time response positively impacts customer interactions by appropriately matching cross sell/upsell opportunities or to ensure compliance mandates are met," says Spence Mallder, Senior Vice President, General Manager of Workforce Optimisation at Aspect Software. "With the market for real-time analytics growing 20 percent year-over-year, we developed Aspect Mentor in response to our customers' desire to accelerate customer data gathering and analysis and enhance customer interaction value."
Aspect Mentor creates a more efficient workflow by seamlessly integrating with the complete, newly-announced, Aspect Workforce Optimisation 8 suite. Real time alerts go directly to the supervisor dashboard and offer the option to take action within the alert including scheduling a meeting with the agent. Aspect Mentor passes and enriches data that is sent to Aspect Quality Management (AQM) by indicating whether an agent was in compliance or if an alert was sent on an interaction. Integration with AQM also enables recordings to be started or paused when an alert comes in.
Aspect Mentor provides added value to data that is collected in the contact centre and benefits to the customer experience including:
• Increasing first call resolution and revenue by providing timely agent guidance based on the conversation
• Providing a way to identify, intervene and change the course of a call in real-time
• Helping meet compliance mandates by capturing omission of key words and phrases
• Providing a consistent monitoring methodology for better agent training and coaching
• Increasing the number of agents supervisors can manage in addition to giving specific attention to those agents with the greatest needs
• Integrates with leading CRM systems such as Salesforce and Microsoft Dynamics CRM for real time use of customer history and activity and more precise offer targeting.
For additional Information see Aspect's Company Profile