Aspect Consumer Index 2020 – Download the contact centre report Now!
Test your CX IQ with the quiz below! See how consumer attitudes are shaping customer service.
Do you know how today's customers prefer to contact customer service? Are you sure?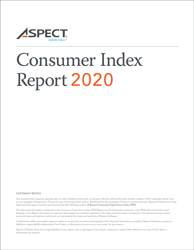 The results of Aspect's 5th Annual Consumer Index report are in, compiled from feedback and opinions of over 1,100 consumers across a wide range of demographics and industries. The attitudes and preferences expressed throughout this survey provide keen insight into how businesses need to evolve to keep pace with consumers' expectations for service.
What we uncovered might surprise you, including these 5 key takeaways:
– Customers want effective experiences
– Providing great service increases revenue
– Customers want relevant outbound communications
– Self-Service works for simple tasks
– Customers prefer happy agents
How well you succeed in today's market will depend on your ability to listen and respond to the voice of your customers.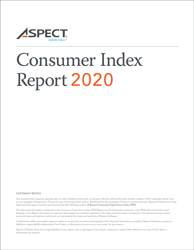 To get the contact centre report Click Here
Aspect is on a mission to simplify and improve customer engagement. Our enterprise software is used by millions of agents every year and supports billions of consumer interactions around the world. Our best-of-breed contact center and workforce optimization applications help companies keep contact centre agents engaged while providing exceptional customer service experiences. Our flexible, highly scalable solutions for self-service and live interaction management and workforce optimisation are available on-premises or in any hosted, private or public cloud environment.
For additional information on Aspect view their Company Profile