Frost & Sullivan—When CRM Meets the Contact Centre, Improving Business Outcomes End to End
As mid-size companies look for a competitive edge in an increasingly global marketplace, one approach that can deliver measurable results is to integrate customer relationship management (CRM) tools with contact centre applications and services for a deep 360-degree view of the customer, tracking every interaction to ensure an optimal customer experience.
Frost & Sullivan research shows that today, only about one-third of contact centres are fully integrated, while the largest proportion is mostly integrated. But by 2016, 54% of surveyed organisations expect to be fully integrated (a 64% growth rate over the two-year period).
Read this paper to get a high-level view of the modern contact centre; learn about the rapidly changing needs and expectations of customers today; see details of the benefits of integrating CRM and contact centre systems, especially for mid-size organizations; and get an outline of best practices for success.
---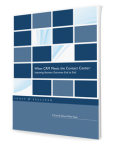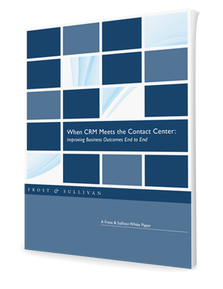 To download the Whitepaper 'When CRM Meets the Contact Centre' Click Here