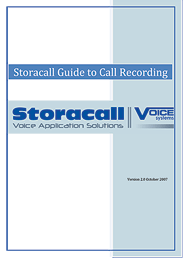 In the past larger companies and organisations have mainly required call recording, but with ever increasing compliance rules effecting whole industry sectors like insurance and financial services, call recording is also increasingly becoming essential for smaller companies. A prospective purchaser of a recording system is faced with a large range of suppliers, equipment, technology and even more confusing terminology and product claims.
To help demystify the subject Storacall has just published a new fourteen-page booklet entitled 'Storacall Guide to Call Recording'. It is a detailed and comprehensive guide providing potential users with all the information they need to choose a call recording system suitable for their requirements. The guide is designed to give as much general information as possible about Call Recording and to help potential users understand how call recording integrates into an existing telephony infrastructure and how it can benefit an organisation.
It is full of jargon busting information and includes an overview of recording technology, connection methods, recording applications and requirements, techniques of call recording together with pros and cons of extension versus trunk side recording.
The guide also explains how the tagging of calls works via SMDR or CTI, it will give you details about PCI and FCA requirements and how the system deals with these to ensure you are compliant. Agent training is also covered in the 'Aspire – Agent Training Software' section of the guide, this explains how you can create easy to use score sheets and produce management reports to ensure you get the best out of your solution.
The free Storacall 'Guide to Call Recording' is available from Carl Nancollas on 01932 710710