What Can OmniChannel Contact Management Do For Me? Amy Booth, Marketing Assistant at Ultracomms explains, jargon free, what Onmichannel Contact management in the contact centre can indeed do you you.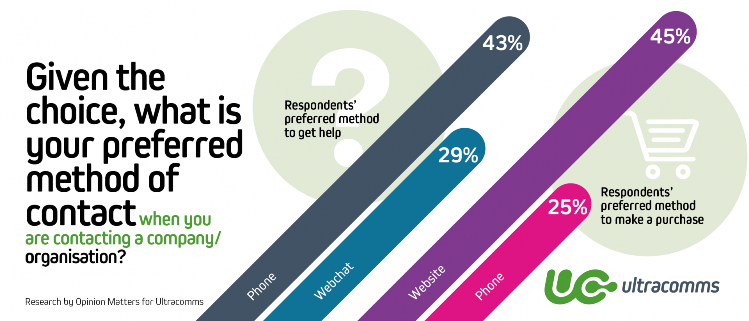 I'm writing this for non-marketers so bear with me if you are an expert. Marketing is full of jargon so I thought it would be a good idea to de-mystify omnichannel contact management for CTO's and other technology stakeholders.
Think of yourself greeting your customer in the entrance hall of your building. Everyone is different, everyone has a preference of which door to use. Most will choose the main revolving door, some the side door and others will park in a completely different place and appear through the back door (because they had to carry something heavy perhaps). When people arrive at your office through different entrances (channels) that's because you have a multi-channel offering.
The same is true when it comes to how they choose to contact you but it will depend on why they need to contact you, where they are at the time, what they are doing and what their purpose is. Quite a lot of parameters.
Omnichannel contact management enables you not only to greet each customer at the door they choose that day, it gives you oversight of why they chose it. Gathering data about this helps you ensure you meet their expectations. And ultimately deliver great customer satisfaction while increasing productivity.
In communications terms people contact you by phone, and 'doors' or channels you have set up and provided them access to such as: your website – using web chat or completing a form – email, text message or social message. Ultracomms recently undertook research about how 1000 UK consumers like to contact and be contacted by brands which showed that depending on their purpose they choose a different channel:
Omnichannel contact management enables you to collect data to create a user profile of how each customer contacts you, how much they use each channel and what they need in that channel. This enables you to make decisions about channels and design connected journeys for customers rather than leading them into dead-ends.
Ultimately omnichannel is the new customer service paradigm that customers have chosen and brands need to service effectively. Or be left behind. Debenhams have recently been in the news on the brink due to their reluctance to remodel their business soon enough to deal with the impact of online shopping on their high street stores. More shoppers and transactions are migrating to online and mobile channels than ever and customers have high expectations. Understanding what they want and being responsive at the right time is much easier if you have a contact centre!
Signs of success
If you already have omnichannel contact management how is it working for you? You should be seeing improved customer satisfaction ratings and an improvement in first contact resolutions. If not, there is a problem with data capture, journey definition and design. Are the resources you are offering in each channel appropriate? Are you able to configure the customer journey to seamlessly link customers with different channels as appropriate? And are all components such as automated resources such as payments working within GDPR and payments regulations?
Did you know that many payments services that claim to de-scope you from the Payment Card Industry Data Security Standards may not? It depends on what services you use in the process of handling payment card data. This can get more complex when you're operating an omnichannel environment involving services outside the contact centre. The last thing you want is to design a personalised experience only to find that things get uber personal when your customer's data is stolen.
So why go to so much trouble? Industry statistics have reported upwards of 150% increase in ROI following omnichannel contact management implementation. Much to consider and much to gain!
---
Additional Information
Amy Booth is Marketing Executive at Ultracomms.
To download the 'Consumer contact centre experiences in the age of the GDPR' report Click Here