Supercharge your complaint handling at the Winning With Complaint Handling Conference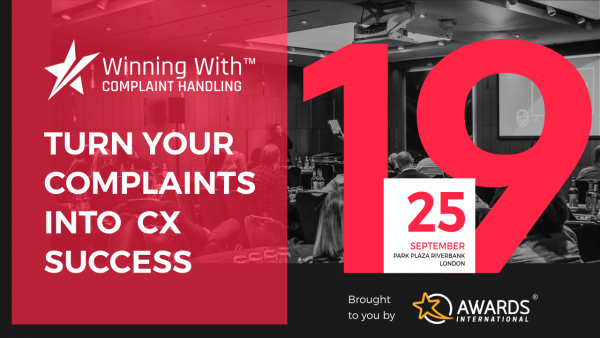 As a contact centre professional, you're always on the lookout for ways to delight your customers even further.
And we're on a mission to share the latest and greatest knowledge from the world of complaint handling.
Hosted by Daniel Ord, a world expert on contact centre strategy, the Winning With Complaint Handling Conference will feature six interactive panel discussions from industry leaders alongside excellent networking opportunities.
The conference is on 25th September at the Park Plaza Riverbank in London. We look forward to seeing you there!
What can I expect?
– Actionable techniques for turning complaining customers into loyal customers.
– A truly interactive experience – using the conference app, you can vote on discussion topics and put questions to the panel in real time, ensuring the discussion focuses on what matters to you.
– 6 panel discussions led by award-winning organisations from a variety of sectors. In a CX economy where expectations transcend any one sector, it's essential to see how it's done across the business landscape
– A focus on adopting dynamic, technological solutions instead of traditional approaches so you can stay up-to-date with the most cutting-edge complaint handling strategies.
– Numerous networking opportunities throughout the day (four short breaks and an extended brunch break) giving you plenty of time to connect with other business leaders and share best practice
Book now, save more
If you book before our speaking lineup is announced, or before all early-bird tickets have been sold, you can attend the conference for just £249 per person.
After the early bird deadline, registration will be £349.
By booking today you save your place at a conference and save £100 for every ticket you buy. Sounds like a good deal?
---
Additional Information

If you have any questions about the event, please contact Marketing Manager, Aleksandar Ilic. by Email or telephone 02032860544
To attend the Conference Click Here