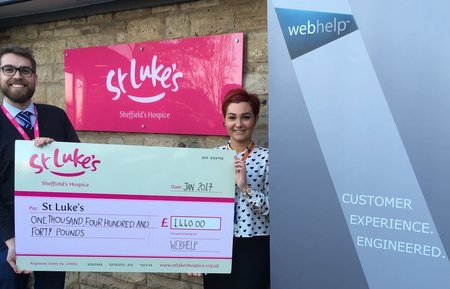 Webhelp's Sheffield Contact Centre gives Festive boost to local hospice.
Webhelp colleagues in Sheffield have got the new year off to a caring start by giving a local cancer care hospice a donation of almost £1,500.
The contact centre team engaged in a series of fundraising activities over the festive period, including holding a raffle and dress down days and donated money instead of giving each other Christmas cards. In total the contact centre raised almost £700. Webhelp is adding £750, bringing the total raised for the hospice to almost £1,500.
The Webhelp Sheffield team met with representatives from St. Luke's Hospice to agree what the money would be used for. They were delighted to learn they had raised enough money to cover the costs of a month's nursing care, which would provide support and comfort for people in their final hours.
---
Additional Information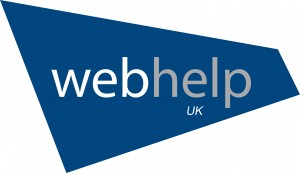 About Webhelp: Webhelp is a global business process outsourcer (BPO), specialising in customer experience and payment management in addition to sales and marketing services across voice, social and digital channels.
From more than 25 countries with a 35,000-strong team, our focus is on engineering performance improvements and delivering a real and lasting transformation in our clients' operating models to generate financial advantage. We partner with some of the world's most progressive brands including Sky, Shop Direct, Bouygues, Direct Energie, KPN, Vodafone, La Redoute, Michael Kors and Valentino.
Headquartered in Paris, France, the company has grown its revenues by more than 250% in the last 4 years by investing in its people, the environment they work in and developing its analytical and operating capability to deliver a transformational outsourcing proposition that addresses the challenges of an omni-channel world.
Webhelp is owned by its management and KKR, a leading global investment firm, as of February 2016.
For additional information on Webhelp visit their Website or view their Company Profile