UK National Contact Centre Awards 2016 and the Winners are….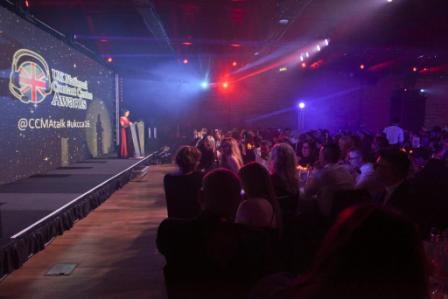 I have always had the opinion that an industry is only as good as the people who work within it; thankfully the UK contact centre industry has exceptional and vastly talented people.
I can think of no better confirmation, if indeed confirmation is required, of the exceptional talent to be found within the industry than at the UK National Contact Centre Awards 2016 held on Wednesday (18th May 2016) and orchestrated by those good folk at the CCMA.
The jaw-dropping and awe-inspiring venue of The Brewery, London reflected the significance of the annual event to which 700 of the great and good turned out in their finest attire; the attendees gathered in the reception area with hopeful nominees assembled to discuss with colleagues their chances of scooping the top award no doubt subdued by the ample champagne on offer.
Take this time to reflect on both the significance of these annual events and the amount of time and effort put into staging these prestigious awards – for example, the initial screening of hundreds of carefully worded applications – the miles of travelling across the whole of the UK, the numerous overnight stays of the many Judges who visited every nominee to see if in fact their application indeed matched reality.
I commented to Ann-Marie Stagg, CEO of the CCMA, prior to the event commencing that she and her trusted hard-working team had yet again pulled off an exceptional event; with her customary modesty replied 'well we have had 21 years to get it right!'
I was chatting to an excited nominee at the drinks reception who hoped to achieve fame by securing one of the top awards – to, hopefully, put him at ease I commented that to be named as a nominee was in fact a significant achievement to which he should be duly proud.
The significance of being presented with the top award in a specific category has many benefits to both the recipient and the contact centre itself; Indeed I discussed this with a previous recipient, Michael Sherwood of Atom Bank, where we were both in agreement that in addition to having the 'wow factor', on a CV it gave the winner additional bargaining power when an annual salary review is conducted!
There are of course many other 'similar' awards in the contact centre awards calendar; all of which play their part and all of significance but it is my opinion, and those of most of the people on my table that everybody would like to own an Audi Sports car but ultimately everyone has the dream of owning an Aston Martin.
So another Awards event is now over, the feeling of the morning after the night before has now passed, dinner jackets have now been returned to the hire company and contact centre directors have been informed of their Staff's successes but I am confident that even a few days after the event Ann-Marie and her team are planning the 2017 event.
So it is with pleasure that I can detail below the winners of the Industry's most prestigious awards – congratulations to all of the recipients who, like the CCMA, do the industry proud.
Lifetime Achievement – Becky Simpson, VP Contact Centre Operations, Carnival UK
Contact Centre Support Manager – Shanice Goldspink, Direct Line Group
Recruitment Manager – Bryan Horrocks, Rentalcars.com
Learning and Development Champion – Martyn Bullard, Sage
Customer Relations Manager – Phil Hansborough, British Gas Metering
Resource Planning Manager – Sobaan Afzal, SkyUk
Quality Manager – Lindsey Cordes, Minster Law
Business Improvements Manager – Sadie Norman, Screwfix
Social Media Champion – Kit Webster, RBS
Customer Experience Champion – Sally Weir, BUPA
Team of the Year – OVO Energy
Team Manager, Webchat – Phil Redman, Tesco Bank
Team Manager, Rising Star – Abs Ahadi, Close Brothers
Team Manager, Outbound – Nikki Harper, BUPA
Team Manager, Retention – Claire Henderson, Sage
Team Manager, Sales – Louise MacLean, RSA
Team Manager, Service – Jess O'Halloran, AdminRe
Contact Centre Manager, Outsourced – Catherine Rosso, Skyes Global
Contact Centre Manager (small contact centres) – Alexandra Marsden, Royal London
Contact Centre Manager (medium contact centres), Darren Gibbins, Barclaycard
Contact Centre Manager, (Large contact centres) Paul Dalby, Direct Line Group
---

Additional Information
We will be featuring the awards in more detail over the next few days so watch  this website!
For additional information on the CCMA visit their Website or view their Profile