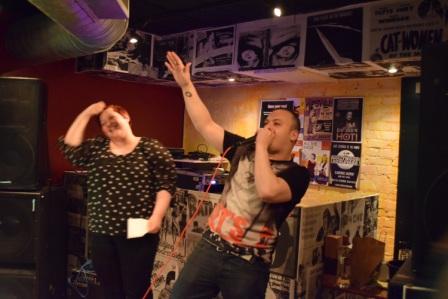 Fun loving employees at leading UK contact centre, RESPONSE, have shown that when it comes to fundraising for their chosen charity, Help for Heroes, they really do know how to put their wide ranging talents to good use.
In the first ever "RESPONSE has got talent" event, budding performers from across the business took to the stage in Glasgow to try to win coveted recognition as RESPONSE's top act. With diverse performers ranging from Motley Crew to Motown and from Judy Garland to Billy Idol there really was something to cater for every musical taste. In the end however; it was Beat Boxing Customer Service Advisor Peter Downey who came out on top with his own distinctive musical medley of well-known TV tunes, which included most notably the theme tunes from both Coronation Street and EastEnders.
Having announced Help for Heroes as their 2014 charity of choice earlier this year, RESPONSE employees have been hard at work helping the business towards its ambitious target of raising over £15,000 by the end of their 2014 financial year. This event is just the latest of a series of fund raising initiatives that the team has embarked upon this year to date.
Kim Wardner, Regional Coordinator for Scotland at Help for Heroes said. "Help for Heroes (H4H) is all about 'doing your bit' and the enthusiasm of the RESPONSE team in Scotland for their fundraising has been boundless and is utterly contagious. It is thanks to wonderful support like this that mean we have been able to achieve so much in such a short time for our wounded, injured and sick in Scotland".
Julie McIntosh, Director of People and Culture at RESPONSE said."The enthusiasm and energy among RESPONSE employees in their fundraising efforts for Help for Heroes has been incredible, with everyone working together at every possible opportunity to get involved, reflecting our positive and engaging company culture. The time and effort that they put into our fund raising activities never ceases to amaze me; which on this occasion appears to have been matched only by the impressive but not too serious musical talent on display"