Complaints about nuisance calls are rising – help customers welcome your calls

1 in 5 direct marketing calls is from an anonymous or false number. Rogue traders that break the law make it difficult for normal businesses. (Ofcom)
According to BBC Watchdog, the public now treat any call with suspicion. However contacting customers is essential to running any business. Organisations need to balance serving their customers as they meet the strict legal requirements.
Here are six things you can do to make sure that customers answer your call.
1. Stay Compliant
It is unlawful to make unsolicited sales and marketing calls to people registered with Telephone Preference Service (TPS). By listing their number, they are opting out of nuisance/direct marketing calls.
To do: To follow the law, ensure you do not make calls to listed numbers, customers who ask you not to call them or customers within 28 days of them registering.
2. Display your number
When you call you must always say who is calling and display your number to the person receiving the call – this is a legal requirement. You also need to provide a contact address or Freephone number if asked.
To do: Check your PABX, and ask your telephone systems provider to make the changes you need.
Just so you know – The law is more complicated for automated calls. People must specifically agree to receive this type of call. See our '6 steps to responsible and effective outbound' infographic.
3. Plan and offer value in every contact
Have a clear purpose that makes the call useful for the customer too. Have a support plan that provides help to customers. Make sure agents know what is expected and the goal of the call.
To do: Know exactly what every campaign is for and check for the most suitable time of day.
4. Data management
Are your customer records up to date? Save time and prevent waste. When your records are clean, outbound calling runs smoothly.
To do: Clean your records and give agents time to check and amend incorrect details.
5. Provide agents with a guide to the process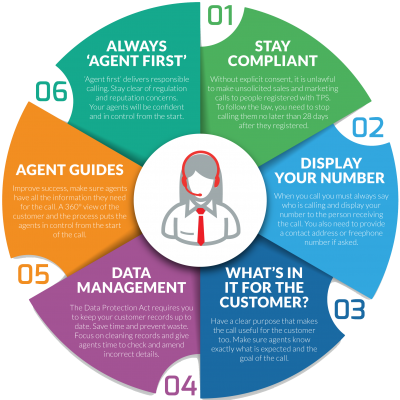 Make sure that agents have all the information they need for every call. When the agent has a 360° view of customer details and the process they need to follow, they control the call from the start.
To do: Invest in agent guidance to improve success rates. Use a step-by-step agent guide to make the processes clear.
Outbound calling to do wheel image
read more
6. Always agent first
Plan your campaign calls. Screen pop customer details with the campaign to the agent before dialling.
To do: 'Agent first' delivers responsible calling. Stay clear of regulation and reputation concerns. Your agents will be confident and in control from the start.
Perhaps if there were no regulations it may be tempting to take a risk. Be responsible about managing your outbound calling processes.
---
Additional Information
To download our Outbound Campaigner product sheet Click Here
For additional information on Netcall visit their Website or view their Company Profile