Noble Systems Cloud Contact Management Solution selected by Pelican Auto Finance – Global contact centre technology leader's cloud-based communications platform is chosen by national automotive lending specialist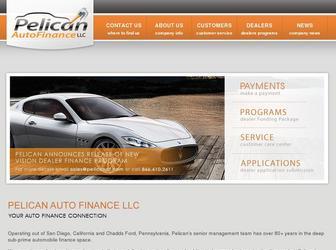 Noble Systems have announced that Pelican Auto Finance, a San Diego-based automotive and consumer lending organisation, has chosen the Noble® Enterprise Cloud solution to achieve a new level of client communication with its borrowers and partner dealers.
Joel Kennedy, COO at Pelican Auto Finance said, "Client communications are an essential component of the servicing process, so we expect a lot from our communications system. We believe the blended communications and monitoring functionality offered by Noble's platform will enable our agents and managers to perform their tasks more intuitively – and the efficient, cost-effective cloud deployment option makes the system an even better match for Pelican Auto Finance".
Noble Systems' cloud solution delivers functionality equivalent to its premise-based enterprise platform in a versatile hosted arrangement. The new system equips Pelican Auto Finance with tools for inbound and outbound contact processing, intelligent call routing, agent/system monitoring, and regulatory adherence that allow the organisation to eliminate inefficiencies and reduce expenses while maintaining secure, compliant communication procedures.
"Pelican Auto Finance has chosen the optimal system for an organisation looking for the versatility of cloud technology without sacrificing the functionality provided by an on-premise solution," said Chris Hodges, Senior Vice-President of Sales and Marketing at Noble Systems. "By leveraging the predictive dialling, call distribution, and compliance management applications in Noble Enterprise Cloud, the organisation will experience significant gains in productivity and process quality".
---

For additional information see Nobel Systems Website or view their Company Profile