Jabra launches Evolve 75 wireless headset for modern office workers
Designed to support concentration in the open office, the Jabra Evolve 75 manages office sounds and interruptions with active noise cancellation and integrated busylight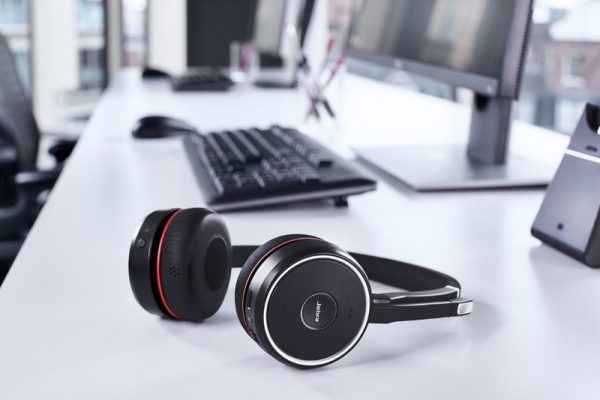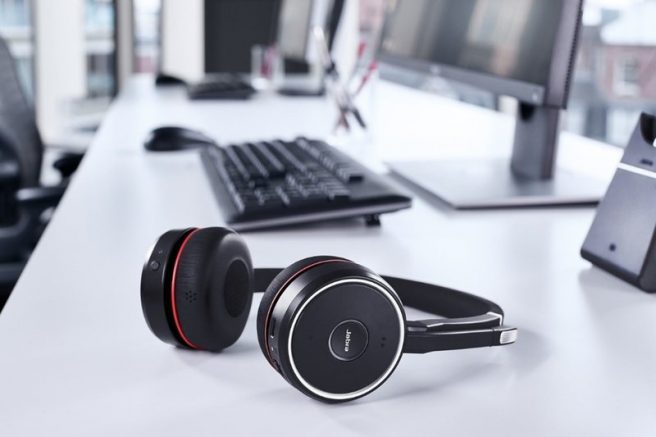 Audio and communications technology specialist, Jabra, today announced the expansion of the market leading Evolve series with a new premium wireless headset for modern office workers, the Jabra Evolve 75. Boasting a unique combination of features including superior Active Noise Cancellation (ANC) and an integrated "do not disturb" busylight, Jabra Evolve 75 is the best wireless headset for concentration in the open office*.
The headset is the latest addition to the successful Jabra Evolve series, which has sold more than 2.5 million units worldwide. The range was developed to reflect the way people work and enable focused and distraction-free performance in open office settings. The Jabra Evolve 75 takes this promise to the next level by combining the strongest parts of the Evolve range: wireless freedom, great sound, ANC and a busylight.
The Jabra Evolve 75 comes equipped with world-class speakers for music and high-definition (HD) voice for crystal clear calls. Dual Bluetooth® connectivity supports calls and music by allowing the user to simultaneously pair the headset with two connected devices, such as a computer and smartphone. With a wireless range of 100 feet for laptops and 33 feet for smartphones, the headset also enables the flexibility and freedom to move, allowing workers to multi-task without the noise and interruptions from colleagues that stifle concentration and productivity.
Recent research from Jabra** found that knowledge workers lose 24 minutes each day due to noise and interruptions, while 78 percent believe their productivity is negatively impacted. The Jabra Evolve 75 is the ultimate business tool for sound and freedom, helping workers collaborate, concentrate and remain productive in busy, open place offices without the need for designated quiet rooms.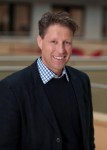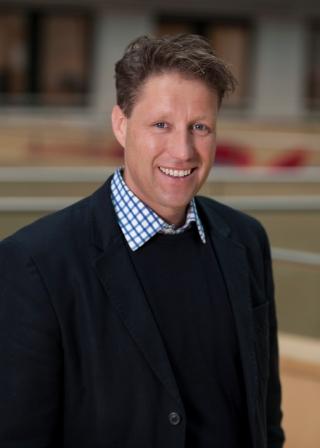 Holger Reisinger, SVP, Jabra Business Solutions, commented,
"The premise behind the open plan office is to foster collaboration and improve communication among employees. But despite their many benefits, they have become breeding grounds for unsatisfactory labour output,"
"Interruptions from colleagues and the noise generated in these environments are negatively impacting workers and contributing to lacklustre performance. Increasingly, knowledge workers are being forced into isolation to do their jobs. The Jabra Evolve 75 provides businesses with an alternative solution to support an open office philosophy that's conducive to better performance."
Certified for modern office use
The Evolve 75 meets Open Office and Outdoor requirements for Skype for Business from Microsoft and is also certified for Skype for Business, Cisco and other leading Unified Communications (UC) platforms.
For IT-decision makers, the hassle-free and easy-to-use headset increases UC adoption by seamlessly and intuitively bridging the gap between the mobile phone and computer. The Jabra Evolve 75 is also compatible with Jabra Direct – free cloud-based software that lets users personalize and manage the headset.
Key features and specifications:
– HD voice for crystal clear calls and music
– Superior Active Noise Cancellation (ANC) and an integrated busylight to boost productivity by reducing noise and interruptions
– Wireless range of up to 100 feet from your laptop and 33 from your smartphone
– Flexibility to connect two Bluetooth devices at the same time for calls and music – for example, both a computer and a smartphone
– Integration with leading UC platforms including Skype for Business and Cisco
– Up to 15 hours of battery life
– Leather-feel ear cushions and an on-the-ear wearing style for all day comfort
– Discreet boom-arm that can be clipped into the headband when not on calls
– Easy-to-reach button on the ear cup that allows users to hear announcements without removing the headset
– Easy charging and docking comes with an optional charging stand to eliminate battery concerns
---
Additional Information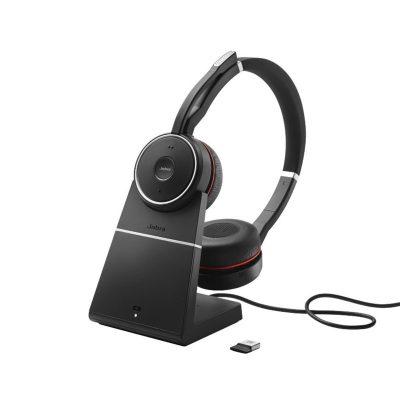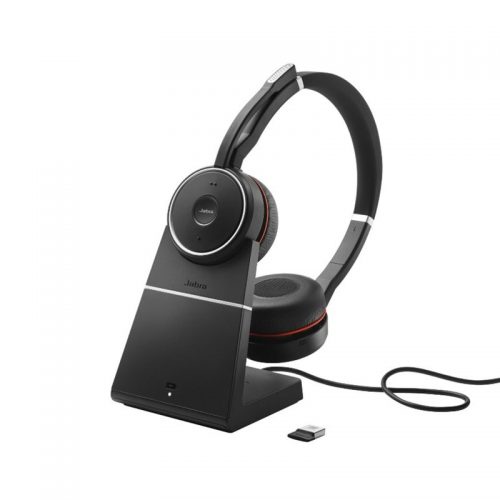 Read more about the Jabra Evolve 75 by Clicking Here
Jabra, part of the GN Group, is a leading developer and manufacturer of communications and sound solutions. We are committed to letting people hear more, do more and be more than they ever thought possible. We believe that through sound, we can transform lives. Jabra innovates and empowers with sound solutions for businesses and consumers, producing corded and wireless headsets, portable and in-office speakerphones, and sports earbuds. Jabra employs 1,000 people worldwide, and produced an annual revenue of DKK3.5 bn in 2016. The GN Group operates in more than 90 countries, and has almost 150 years' experience in innovation and delivering reliability and ease of use. Founded in 1869, employing over 5,000 people, and listed on Nasdaq Copenhagen, GN makes life sound better.
For additional information on Jabra visit their Website or view their Company Profile