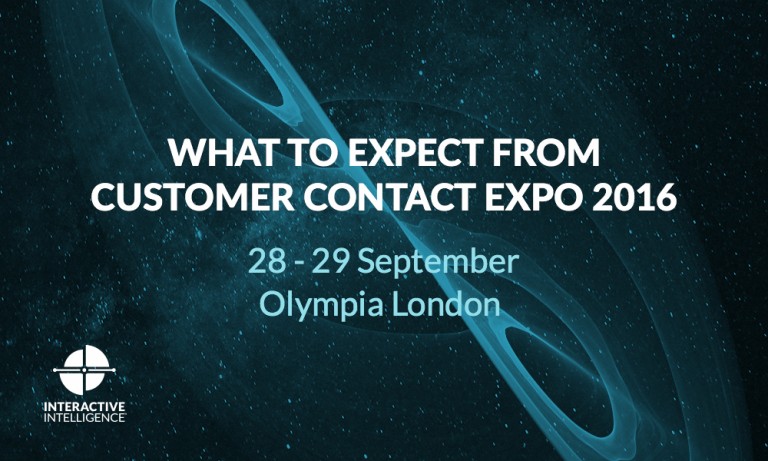 The ever-evolving ways to connect with customers mean that there's an ever-growing need for adaptive and future-proofed technology for our contact centres. We're ready for the future with PureCloud Engage and we're proud to be exhibiting it as the headline partner at Customer Contact Expo 2016 in London this September. Read on to learn more about our customer engagement solutions and what you can expect to see live at #CCExpo16 this year.
What is customer engagement?
Customers have changed, so we must change with them. They will contact you via a medium of their choice, not yours, which means that engaging with them becomes more about the adaptability of technology than the 'talkability' of agents. Your agents need to be able to see the full picture of communications with any given customer if they are going to be able to engage with them and effectively service their needs.
How does a cloud platform improve customer engagement?
1. Single-view platform combines all customer contact in one place
Our omnichannel routing technology means that your agents can easily see a history of contact, no matter how a customer contacts them. Your customers have a range of methods to contact you. Your agents have one interface to see them all.
2. Visual interface allows you to easily map out IVR flows
Our solution makes it easier for you to respond to customers' needs by visualising how they contact youThe integrated IVR flow in PureCloud Engage allows you to align your response team with your customers' journeys.
3. IVR response provides answers without using an agent's time
The above, in turn, means that time is saved on both sides of the call. Your customers get answers quickly and easily by either verbally or physically responding to your IVR and your agents don't have to spend unnecessary time on the phone, so everyone's a winner.
4. Social media integration allows a direct response from agents
PureCloud Social Channel Management merges the crucial customer service branch that is social media into your agents' intuitive interface.This means that they can prioritise contact from the right customers at the right time without compromising their own productivity.
5. Graphical scripting creates real connections with real people, not robots
Gone are the days when customers put up with agents reading from scripts. Our solution integrates graphical scripting to allow agents to execute a more dynamically human job and, what's more, customers don't even know it's there.
Does it work?
Our solution is used by some of the biggest and most successful, customer-focussed companies in the world. Just ask AO.com! Watch Video
---
Additional information
To join Interactive Intelligence at Customer Contact Expo 2016 and reimagine the future of customer engagement and call centre solutions. Register now by Clicking Here!

Randi Roger is Global Manager of Marketing Programmes at interactive Intelligence
No matter which hat she is wearing, all her time and energy are spent planning and implementing marketing projects that support the global marketing efforts. Prior to working for Interactive Intelligence, Randi successfully managed a cloud-based hands-on set of virtual labs teaching higher education students how to harden a network against cyber attacks.
For additional information about PureCloud Engage℠, visit the Interactve Intelligence Website