Eishtec has announced the opening of their new contact centre which will create up to 320 jobs over the next 3 years.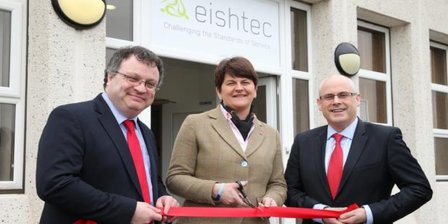 The announcement was made by Enterprise, Trade and Investment Minister Arlene Foster and Minister for Employment and Learning, Dr Stephen Farry who advised that Eishtec Ltd would be setting up their new contact centre in Craigavon which includes £1.2m of investment from Invest Northern Ireland.
Eishtec, who specialise in outsource for customer service, technical support, retention and sales services and administration, primarily for the mobile telecoms sector to include EE.
Commenting on the announcement Mrs Foster said:
"Eishtec is an award-winning company that has already established two high-performing service centres. It has chosen Craigavon for this new centre, against competition from locations in Scotland, Wales and the Republic of Ireland. Thanks to the hard work of Invest NI we have been able to secure this project for Northern Ireland, which is good news for the local economy.
When the new jobs are in place, they will generate over £5.5million in salaries. There are a variety of roles, including management and team leader positions.
They will offer excellent training and employment opportunities to a wide range of people, from those with experience in customer service to school leavers and the unemployed."
Dr Farry added: "The creation of a vibrant economy is at the heart of the Northern Ireland's programme for government. I welcome that the support available from my Department through the Assured Skills programme has assisted in 320 new jobs being created in Craigavon by Eishtec.
My Department will ensure that the organisation has the support necessary for training initiatives to develop the skills required for these new roles.
Northern Ireland continues to show that it has the talent and skills available to support business needs and this is evident in Eishtec's decision to locate in Craigavon creating these new jobs. I am committed to working with our inward investors and local companies to help them meet their skills needs and hence achieve their business objectives."
Colm Tracey, Eishtec's Operational Director, said: "The impetus to set up a third customer service centre was through increased demand from our core client, EE. However, our objective is to significantly expand our customer base and the Craigavon site will also service other clients and play a vital role as we diversify and grow our business.
The support from Invest NI and DEL has been essential in enabling us to quickly begin recruiting and training staff. We have started our recruitment drive, with 60 jobs already in place, and are keen to ramp up our recruitment efforts immediately.
The quality of our staff has been central to our success so far and we are confident that we can recruit high calibre staff for the Craigavon centre. With the right training and career progression we can create a positive environment for our new employees to develop and help us further strengthen our offering to clients."
---
Additional Information
Photograph Caption: (L to R)
Minister for Employment, Learning, Dr Stephen Farry – Enterprise, Trade & Investment Minister Arlene Foster – Colm Tracey (R), Eishtec operational director
For additional information on Eishtec see their Website