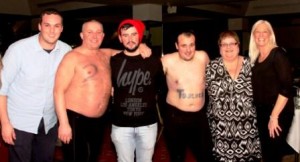 Associates at Sunderland-based Contact Centre, 2Touch, proved they are not shy and retiring, as a fearless bunch took to the stage in '2Touch's Got Talent,' to raise £1,093 for Macmillan Cancer Support.
For one night only, associates put their calls on hold as they danced, sang and performed in front of the judges.
Held at the Stadium of Light, a panel of five 'formidable' judges decided the fate of the acts whilst 'Gangsta Chav,' Bobby 'Love' White, replaced Ant and Dec as he warmed up the crowd and introduced the acts.
In the hot seat was 2Touch's very own Simon Cowell aka Head of Contact Centres, Craig Hardy, Campaign Manager, James Sharp, Facilities Offices Services Manager, Lynn Kane, Finance Manager, Andrea Holt and last but not least, Deputy Operations Manager, Lorraine Conlon.
Lynn Kane, said: "'2Touch's Got Talent' was a great night and we would like to thank the Stadium of Light for providing us with the venue as well as donating a range of raffle prizes.
Lucky winners had the chance of receiving tickets to a selected upcoming Sunderland match, two pairs of concert tickets to see an act perform at the stadium, vouchers for Sunday dinner at the stadium and a signed football.
"This was a chance for us to all let our hair down, have fun together and raise money for a very worthy cause. The standard of acts was very high and it was difficult for us to select one winner. 2Touched, a dance and comedy act performed by Dominic Murray and Arran Meldrum as well as Ryan Bates-Walls and his Papa Smurf Dance Act, wowed the crowd with their performances, so much so we crowned them joint winners.
"Both acts received £100 and the winners kindly each gave £50 back to the charity. I would like to thank everyone at 2Touch for coming along and supporting the acts."
As one of Sunderland's largest employers, 2Touch has, over the years, raised money for a number of worthy causes, such as St Benedict's Hospice and The Foundation of Light.
Photograph Caption: (L to R) James Sharp, Dominic Murray, Ryan Bates-Walls, Arran Meldrum, Lynn Kane, Andrea Holt.
17th November 2013