Associates at Sunderland based contact centre, 2Touch, have managed to raise thousands of pounds – despite tough times, for a local cause close to the hearts of many in the area.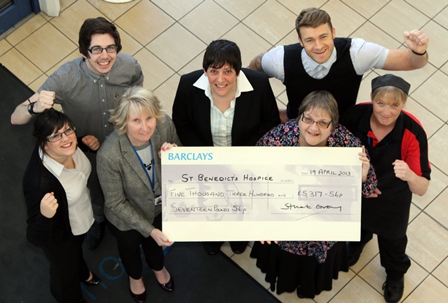 For over 20 years, St Benedict's Hospice has been providing specialist palliative care to the people of Sunderland and the surrounding areas and all funds raised will be contributed to the Hospice's new facilities in Ryhope, Sunderland.
The charity was chosen by staff as their 'Charity of the Year' in April 2012 and in the last 12 months through various fundraising programs such as coffee mornings, raffles, dress down days and charity auctions the team have raised a fantastic £5445, much more than they had anticipated.
Lynn Kane, 2Touch Facilities Office Services Manager, said "It has been a pleasure working with the fund raising team at St Benedict's Hospice. We are delighted to have raised nearly £5,500 for what is an excellent charity. I would also like to wish them well for the future and hope they enjoy their new facility"
St Benedict's, Fundraising Manager, Sylvia Stoneham says "I'm delighted that 2Touch has taken the Hospice to their hearts. They're an amazing bunch – thank you!"
For the next 12 months the contact centre has voted to support MacMillan Cancer Support. Lynn says "They are a charity that many who work here know well and have come in close contact with. I hope that we will be able to raise such a fantastic amount for them also!"