Customer Services Dominated UK Outsourcing Market in 2016 according to Arvato research
Spending on customer service deals surged as the overall UK market remained stable, according to the Arvato Outsourcing Index
– Customer service deals represented 17 per cent of UK outsourcing market value in 2016
– Only four per cent of customer service contracts signed last year to be delivered offshore
– Outsourcing deals worth a total of £6.2 billion were agreed in the UK over the period
– Spending across local government increased eight per cent year-on-year in 2016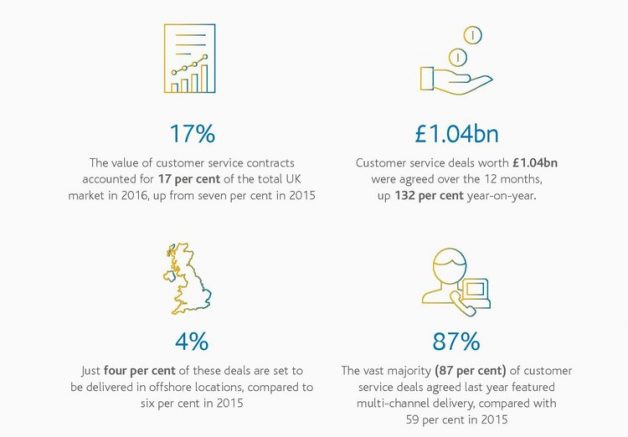 Customer services dominated the UK outsourcing market in 2016 while the sector remained stable in the face of high economic and political volatility, according to the Arvato UK Outsourcing Index.
The research, compiled by business process outsourcing (BPO) provider Arvato and industry analyst NelsonHall, revealed customer services contracts accounted for 17 per cent of UK outsourcing spend over the year, with a total value of £1.04 billion (2015: £449m), up from seven per cent in 2015.
The majority of the deals were to be delivered in the UK, with just four per cent of agreements going to offshore locations, compared to six per cent in 2015.
The findings suggest that integrating digital and traditional contact channels remains a key driver for customer service deals, with the vast majority (87 per cent) of contracts signed last year featuring multi-channel delivery, compared with 59 per cent in 2015.
Media and telecoms businesses were the most active buyers of outsourced customer services in 2016 spending £707 million, followed by retail firms which were responsible for £194 million.
IT application and network management were the next most popular service lines outsourced in the UK market, with deals agreed worth £906.7 million and £503.3 million respectively, according to the findings.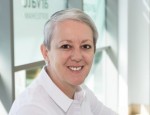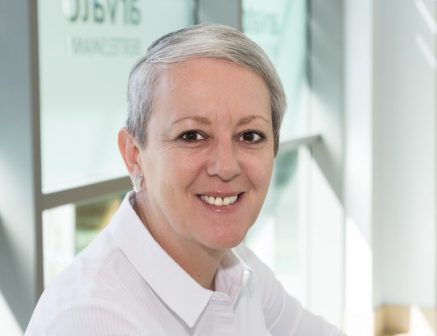 Debra Maxwell, CEO of CRM Solutions, Arvato UK & Ireland, said:
"The findings of the latest Index reflect the fact that excellent customer service is a key differentiator for businesses serving an increasingly digital customer base. With customers now also in the driving seat when it comes to how they communicate with brands, providing a seamless approach to the customer journey has become the norm.
A growing number of businesses are partnering with specialist providers to deliver a multi-channel service which brings together both digital and traditional channels."
The overall UK outsourcing market remained largely stable in 2016, according to the research. The findings revealed a seven per cent year-on-year rise in the number of outsourcing deals procured across the UK last year, despite the overall value of the market falling by five per cent over the period. Outsourcing deals worth a total of £6.2 billion were agreed in the UK over the period
The research partners say there has been a shift away from the traditional large, multi-process contracts towards procuring smaller, more focused deals. Overall, average UK contract values fell by 11 per cent year-on-year in 2016, with the average length of deals signed remaining constant at 53 months.
Technology investment boost across local government
The analysis shows that local authorities across the UK ramped up their investment in technology in 2016, with council spend on outsourced IT reaching £463 million – a 75 per cent year-on-year increase.
The rise in IT spend contributed to an eight per cent year-on-year rise in overall local government outsourcing spend, which totalled £814 million in 2016.
Debra Maxwell, commented: "The sustained growth we're witnessing across the sector reflects the growing pressures on local authorities to transform their operations, cutting costs while providing better services for citizens."
"While technology is already playing a key role through the digital by default agenda, investments in new innovations, such as automation and cognitive systems, are underpinning more fundamental change."
Outsourcing growth among financial services businesses
The financial services sector saw strong growth in outsourcing activity in 2016, with the value of contracts procured reaching £769 million, up 11 per cent on the previous year.
According to the research, the rise can be attributed to a sharp increase in BPO spending as businesses turned their attention to deals in policy services, HR and property and casualty claims processing. The findings show BPO contracts worth £621 million were signed across the sector last year, up 87 per cent on 2015.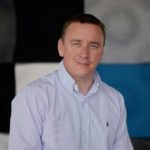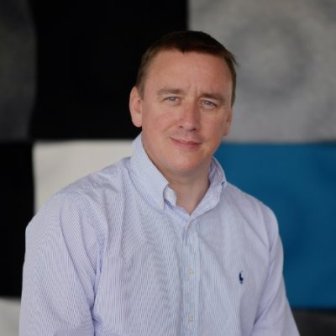 Patrick Quinn, CEO of Arvato Financial Solutions UK & Ireland, said:
"The financial services industry remains under pressure to transform, both in terms of improving services for customers and finding new cost savings."
"It's clear from the research that a growing number of companies across the industry see outsourcing as a viable strategy to address these challenges through introducing new innovations and ways of working. There are some very positive signs for the sector's health looking forward, with a high proportion of first-time outsourcing deals (57 per cent) procured last year."
The Arvato UK Outsourcing Index is compiled by leading BPO and IT outsourcing research and analysis firm Nelson Hall, in partnership with Arvato UK. The research is based on an analysis of all outsourcing contracts procured in the UK market during 2016.
Other headlines from the 2016 full-year Index include:
– Overall 58 per cent of spend came from businesses with 42 per cent coming from the public sector in 2016
– £2.65 billion was spent on business process outsourcing (BPO) deals, representing 43 per cent of the overall spend
– The value of ITO contracts accounted for 55 per cent of the UK market, with contracts signed last year worth £3.42 billion
– Joint agreements including both BPO and ITO accounted for £139 million (two per cent) of the total spend
---
Additional Information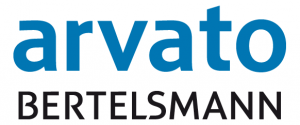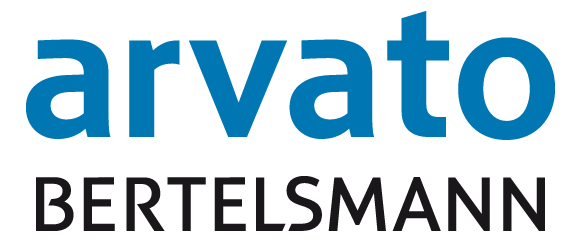 Arvato is a trusted global business outsourcing partner to the private and public sectors in the UK and Ireland. With more than 50 years of experience in outsourcing, Arvato combines expertise in business process outsourcing (BPO), financial solutions, customer relationship management, supply chain management, and public sector and citizen services to deliver innovative, individual solutions. Arvato has long-term partnerships with some of the most respected companies in the UK and globally, as well as innovative public sector clients. Internationally, Arvato is a leading global BPO provider with over 70,000 people employed across almost 40 countries worldwide. Arvato has annual revenues of €4.8bn contributing over a quarter of the Bertelsmann group annual revenues of over €17.1bn.
For additional information on Avarto visit their Website