The contact centre business process outsourcing (BPO) market, as you may know, is poised to grow at a CAGR of 3.4% between 2022 and 2029*.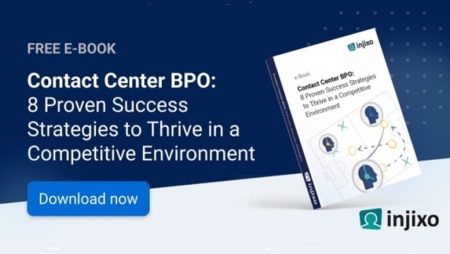 It's been one of the big success stories of recent years. This is great news for BPOs, but the market has become extremely competitive.
Download our latest ebook – Contact Centre BPO: 8 Proven Success Strategies to Thrive in a Competitive Environment. To tap into and deploy all the strategies outlined here to stay ahead of your competitors?
Strategy One – Ruthlessly Control Costs
Staffing typically accounts for over two-thirds of contact center operating costs. Maximizing schedule efficiency is critical: Over-staffing creates unnecessary expenses and eats into profits. Under-staffing costs real money if you breach SLA.
Therefore, optimise contact centre agent schedules to minimize costs and avoid penalties.
Tip: WFM increases staffing efficiency by 10-20%.

To download the ebook from injixo 'Contact Centre BPO: 8 Proven Success Strategies to Thrive in a Competitive Environment' Click Here
injixo is a product of InVision, a market leader in WFM for over 25 years. InVision built on its knowledge and experience to launch injixo as one of the first cloud workforce management (WFM) solutions for contact centres on the market back in 2011, and gained the accolade of first to market with AI-based forecasting. Since then, the injixo user community has exploded and will continue to innovate and push the boundaries of WFM.
injixo combines cutting-edge functionality, a team of highly committed experts, and instant, seamless integration with leading contact centre platforms. Powerful and easy to use, injixo covers the whole planning cycle from forecasting to scheduling, real-time management, a comprehensive API and employee self-service via a smartphone-friendly agent portal.
injixo WFM helps you plan your staff across all your digital channels. It consistently delivers an excellent customer experience while engaging your employees, boosting efficiency, and reducing operating costs.
For additional information on Injixo view their Company Profile