Alex Castle of Magnetic North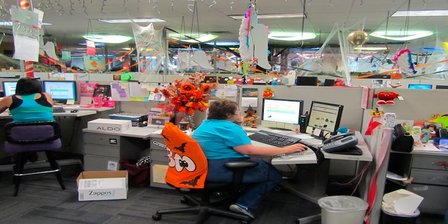 Contact centres have one of the highest staff turnover rates in comparison to other industries. Staff can often feel undervalued and lack job satisfaction, largely due to the monotonous nature of some of the activity. Contact centre agents have often been subject to stereotyping too – being seen as fairly unskilled employees and easily replaceable.
But contrary to this, most contact centre agents are very knowledgeable about the offering of the business and have the ability to adapt quickly to rapidly changing situations. In the right environment and with the right support, contact centre agents will enhance the customer experience, providing excellent customer service which will result in an increase in customer loyalty.
So, how can we get the most from these essential members of the team? Here are 5 simple suggestions to get more from your agents on an ongoing basis and improve the culture of your contact centre.
#1 Focus on the right numbers
Often inbound contact centres are in place to provide customer service when things have gone wrong or customers need help. A common failure in contact centres is focusing too heavily on numbers such as average handling time which can actually be detrimental, potentially leading to agents rushing their calls and not working through the issue as thoroughly as they could.
If agents feel their managers are not providing them with the right framework to allow them to do their jobs effectively, they may start resenting their managers, creating an 'us and them' mentality.
To improve this managers might look towards a more customer centric call centre, focusing in on the customer journey/customer experience and more useful metrics such as first contact resolution and satisfaction scores.
#2 Demonstrate solid leadership
A contact centre is not created with poor culture, it develops over time through poor leadership. Communication is key for team leaders and contact centre managers who must demonstrate good leadership. They cannot be seen to hide behind their desks, only managing through numbers, action plans or disciplinaries.
Team leaders and contact centre managers need to come out of their office, be visible, and communicate with their agents as they are ultimately the people dealing with the customers and can contribute great insight and fresh ideas. It's essential that agents feel valued by senior staff. This could be something as simple as asking agents what they think when looking to make improvements and changes, or jumping on the phone alongside their team.
#3 Invest in new technology
It can be very frustrating for even the most motivated agents if they are forced to use outdated technology. Technology should be an enabler not a barrier yet too often agents experience issues that restrict them. Problems such as a bad line, the screen freezing, the agent not having a clear view of all customer history/interactions or a poor script that is rigid or slow can be highly frustrating for both the agent and customer, leading to a negative customer experience and reflecting badly on the company.
Empowering agents with the right equipment can lead to more motivated staff and improved customer experiences. This can apply to the back office as well. How many times from your own experiences have you been transferred from operator to operator where agents cannot solve your problem? American Express found 26% of customers experience this. Skill based routing allows customers to be transferred to the most effective agent(s) for their particular issue or query, creating a far more positive customer experience.
Give agents variety over monotony. A blended dialling system is not only more efficient but also gives staff a greater range of tasks and interactions, which many agents prefer. The right call centre software can make a world of difference.
#4 Promote from within
Often working in a call centre can just feel like a placeholder in an agent's career path or a dead end job. This mentality makes it hard for managerial staff to get the most out of their agents and properly motivate them. Why excel in a job you cannot progress in?
Reasons such as financial incentives exist of course, however, incentivizing through career opportunities for agents can offer a number of benefits. Firstly, unlike financial incentives, having a culture of looking internally for prospective new managerial positions costs the company nothing, and actually saves the company a significant amount of recruitment and training costs.
Secondly, new managers promoted internally will have a far better knowledge of the business from the ground-up, and able to better empathise with agents, which can help provide valuable insight into improving culture and working conditions.
Furthermore, new managers promoted from within are often more accepted and command a greater respect from agents. Agents are assured in the knowledge that their manager has done, and excelled in the job they are managing; helping reduce the 'us and them' mentality mentioned earlier.
#5 Recognition
When was the last time someone recognised you for doing a great job? How did it make you feel? Agents in large teams can often feel unappreciated and undervalued. You can be sure a manager would step in if an agent was doing a bad job, so why not recognise those going the extra mile to provide a great customer experience or to exceed their target.
The great thing about recognition is it doesn't have to cost anything, but can provide far more motivation than financial incentives. Recognition can make an agent want to do a great job, and feel proud knowing they will be appreciated for it.
Contact centre culture isn't really something that you can fix and leave – it needs to be considered as part of the bigger picture and embedded into the business philosophy.