Have you heard of injixo but you don't know what functionality is included? Or is it a mystery and you want to know if it should be on your radar?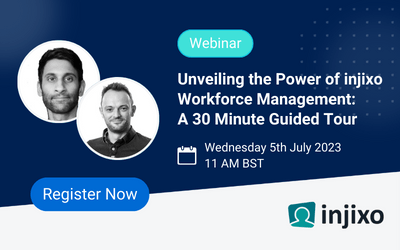 Join us for a live demo "Unveiling the Power of injixo Workforce Management: A 30-Minute Tour" and witness how its advanced AI capabilities can transform your WFM processes and help you rise to the challenges of flexible working.
Date: Wednesday 5th July 2023
Time: 11:00 BST
Still using spreadsheets or new to workforce management solutions?
This live demo will reveal how a modern WFM application can take your planning outcomes to the next level while reducing manual effort. You'll see how injixo transforms forecasting, scheduling, real-time management, reporting, time-off management, meeting planning, agent engagement, and more – while saving time and enhancing accuracy

For additional information or to register Click Here
injixo is a product of InVision, a market leader in WFM for over 25 years.
InVision built on its knowledge and experience to launch injixo as one of the first cloud workforce management (WFM) solutions for contact centres on the market back in 2011, and gained the accolade of first to market with AI-based forecasting. Since then, the injixo user community has exploded and will continue to innovate and push the boundaries of WFM.
For additional information on Injixo view their Company Profile