Join injixo in this unique webinar series as they dissect the WFM cycle. Learn about the essential phases of workforce management with injixo's experts. Gain insights and best practices to optimise your contact centre operations.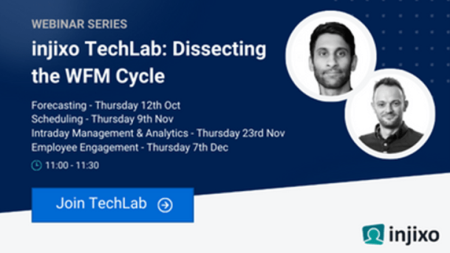 These four 30-minute sessions are designed to equip you with actionable strategies and an understanding of the powerful features injixo brings to the table.
– TechLab Session One: Forecasting – Thursday 12th October
– TechLab Session Two: Scheduling – Thursday 9th November
– TechLab Session Three: Intraday Management + Analytics – Thursday 23rd November
– TechLab Session Four: Employee Engagement – Thursday 7th December
You can either register for all the sessions or just the ones that appeal the most to you.
Whether you're a novice looking to grasp the basics or a seasoned professional aiming to refine your skills, this series promises to provide invaluable insights and best practices to supercharge your planning effectiveness.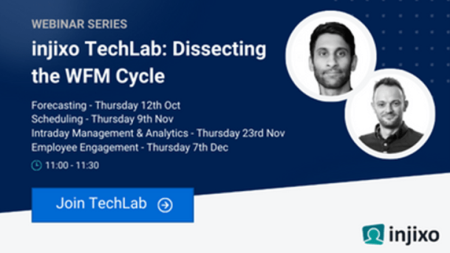 For additional information on the series of webinars or to register Click Here
injixo is a product of InVision, a market leader in WFM for over 25 years. InVision built on its knowledge and experience to launch injixo as one of the first cloud workforce management (WFM) solutions for contact centres on the market back in 2011, and gained the accolade of first to market with AI-based forecasting. Since then, the injixo user community has exploded and will continue to innovate and push the boundaries of WFM.
injixo combines cutting-edge functionality, a team of highly committed experts, and instant, seamless integration with leading contact centre platforms. Powerful and easy to use, injixo covers the whole planning cycle from forecasting to scheduling, real-time management, a comprehensive API and employee self-service via a smartphone-friendly agent portal.
injixo WFM helps you plan your staff across all your digital channels. It consistently delivers an excellent customer experience while engaging your employees, boosting efficiency, and reducing operating costs.
For additional information on Injixo view their Company Profile