Your contact centre staff can wear their team colours on 'Football Shirt Frday' to help beat bowel cencer sooner.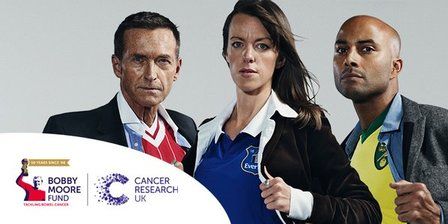 On 22nd April The Bobby Moore Fund for Cancer Research UK is asking men, women and children nationwide to wear their football shirt on Football Shirt Friday and help raise money to beat bowel cancer.
Taking place during April's bowel cancer awareness month, Football Shirt Friday raises money for vital research into the disease which took Bobby Moore's life in 1993, at the age of just 51.
2016 not only marks the fourth annual Football Shirt Friday – sponsored by William Hill and in association with the PFA –  but 50 years since England held the World Cup aloft, making it even more prominent to remember Bobby and the part he played in the country's sporting legacy as Captain of the team.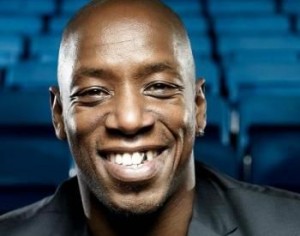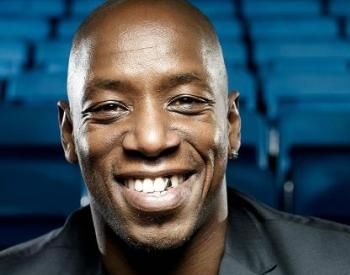 Ian Wright MBE, former English professional footballer and pundit, said:
"Bobby Moore has been a huge inspiration over the years and someone I've always looked up to. This year, it's more important than ever to remember his legacy and celebrate 50 years since he led the England team to glory at Wembley.
All you need to go is wear your favourite football shirt on Football Shirt Friday and help raise money for research into bowel cancer.'​'
TV Presenter Clare Balding OBE said:
"Bobby Moore was more than just a footballer; he was an inspiration both on and off the pitch. The image of Bobby holding the World Cup aloft in 1966 is so poignant and serves as a reminder of why it's important to raise funds for life-saving research. Wherever you are on 22 April, make sure you're taking part in Football Shirt Friday. Get your friends and work colleagues involved, put on your football shirt, and help us to beat bowel cancer sooner."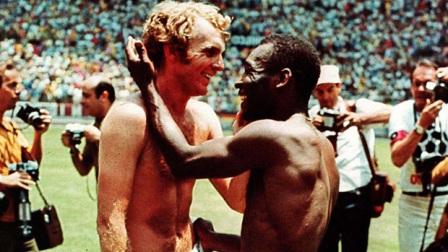 The inspiration behind Football Shirt Friday comes from one of the most famous images of Bobby, taken at the 1970 World Cup, where he swapped football shirts with Brazilian legend Pelé. Shown as a sign of respect between the opposing players, it's a gesture that has been recreated by footballers worldwide ever since.
Bobby's wife Stephanie Moore MBE, set up the Fund in partnership with Cancer Research UK to raise money for research into the disease. To date, over £22m has been raised to fund groundbreaking bowel cancer research.
Stephanie Moore said:
"This year marks 50 years since World Cup glory, which is why we want to see the whole nation get behind Football Shirt Friday on 22 April and wearing their team's shirt with pride. We have made enormous progress in the last 50 years but sadly bowel cancer still kills 44 people in the UK every day. By joining forces and raising funds for the Bobby Moore Fund, we can all help bring forward the day when bowel cancer is cured."
---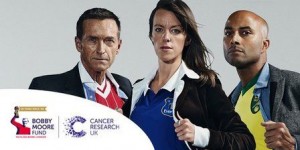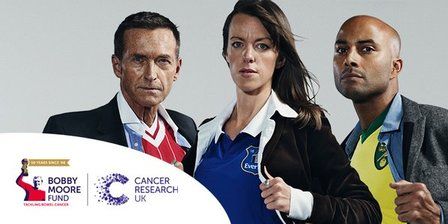 Additional Information
Whether your colours are red, blue or canary yellow, get your team together on Friday 22nd April and make Bobby proud!
For additional information on how your contact centre can get involved visit the Football Shirts Friday Website
People who know our Publisher, Perry Sanger, will know that he is a West Ham United season ticket holder and watches his beloved team home and away; Depending on the game he normally wears the current West Ham shirt or his favourite, a claret and blue retro 1964 shirt with the number 6 on the back. Number '6' as his idol growing up was Bobby Moore. Needless to say that contact-centres.com will be getting involved in this worthwhile charity.