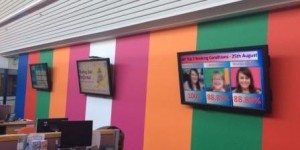 Visual communications help to bridge the gap; If you already use visual communications to help your agents confidently deliver customer excellence, you will know how influential your contact centre environment can be and how the information you display on your contact centre wallboards can motivate your agents.
According to one recent study conducted by Oxford Economics and SAP, only 42% of employees currently know how to extract meaningful insights from the data available to them, while only 47% of respondents say their company has an established culture of continuous learning.
If you haven't reviewed the visual communications tools you use in your contact centre in the last 2 years you may want to read on.
Common Mistakes
Wallboards which are simply a larger format of management reports which contain graphs and other tables are hard to read uninspiring and guaranteed to demotivate your agents.
Focussing solely on call handling metrics is a sure way to create a negative culture within your contact centre.
Old technology such as LED reader boards and blocky screen designs tell agents you don't care.
Quick fixes
Create screens which offer a mix of company news, brand re-enforcement, social activity plus operational information and key metrics which will help agents to make customers happy.
Pull data from everywhere that's relevant, not just your unified communications or PBX, examples include social media, CRM, WFM and CSAT. Giving agents instant access to CSAT and customer satisfaction and feedback will bring customer and agent perceptions of customer care closer.