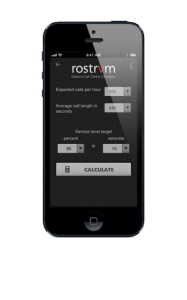 rostrvm Solutions Contact Centre Calculator calculator mobile app calculates the number of staff needed to deal effectively with your inbound calls.
The calculator provides an instant indication of the number of people needed to man contact centre phones whilst meeting the required service level targets.
The app is quick and easy to use – simply enter the expected number of calls per hour and the average call length in seconds, then insert the service level target percentage needed in a set number of seconds. The calculator will show the number of agents required instantly.
The calculated number of agents indicates the number that must be either handling calls or available to handle calls at all times in the hour to meet the required service level.
The App can be downloaded from either Google Play or the App Store